Carry Her Heart by Holly Jacobs: Piper is a well-known and beloved children's and YA author and the founder of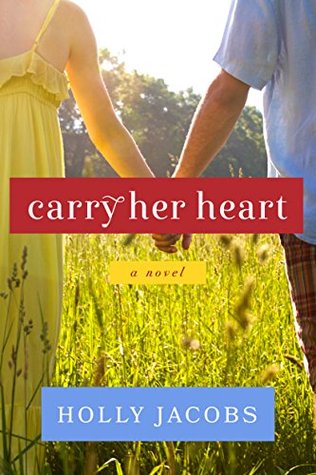 a charity focused on kids. Piper is content with her life; she loves her career and is passionate about helping to feed and clothe children in need for her charity. After giving up her daughter for adoption as a teenager, Piper has carefully constructed her life to never let anyone in. She carries her daughter in her heart and makes sure to write to her in a journal on an ongoing basis in case they ever have the chance to meet.
Piper loves to sit out on her porch and observe life while she writes. She's in the process of beginning a new book when Ned moves into the house next door. While she feels a spark, she immediately sets that attraction aside when she meets Ned's girlfriend. They start as friends and are very close. Ned and Piper have a number of common interests and they are just comfortable together.
It seems strange for Ned to be dating Mela and Piper to have her own love interest in Anthony. Mela's jealousy over Ned and Piper's relationship is a clear indication that even she knows that Ned and Piper could easily become more than just really good friends. Piper seems to enjoy dating Anthony, but their relationship seems to be missing something.
"What do you think Anthony's going to say when he finds out you have a dog?"
"Congratulations? I mean, what else could he say?"
"He's over an awful lot. He might not be any more enamored of dogs than Mela was."
"While I like and enjoy Anthony's company, I would never make a decision about my life around him and his desires."
As I said the words, it struck me that if Anthony and I were truly a couple, I would make decisions based on him.
After what seems like forever, both are free and Ned finally, finally asks Piper on a date! They have a solid friendship that can serve as a great foundation for more if only Piper can take the chance. There is an attraction that has simmered between them ever since Ned moved in next door. Ned is incredibly sweet and thoughtful. He finds a way to give Piper exactly what she needs.
Carry Her Heart is an emotional, slow burn, friends to lovers romance. Carry Her Heart is closer to a women's fiction book than a contemporary romance. I would have loved an epilogue, but the Author's Note helps to lessen the disappointment over not including a key scene. Holly Jacobs provides an interesting look into one woman's life in her early 30's as Piper reflects on her past and her future. Ms. Jacobs created a rich and detailed story with Piper's daughter as a key character. Fans of Maeve Binchy will enjoy Carry Her Heart.
Book Info:

Publication: April 28th 2015 by Montlake Romance
"Maybe we live our lives constantly becoming and rebecoming. Maybe we're always in the process of metamorphosing into something new."
In her journal, writer Piper George notes the change of seasons. Each entry marks the passage of time since she became a teen mother and put her baby up for adoption. Her words flow together, painting a picture of loss, hope, and enduring love for the daughter she's never forgotten. But one autumn, a new presence appears in its pages and in her life: her neighbor, Edward "Ned" Chesterfield.
As winter thaws to spring, Piper and Ned develop a friendship that could be something more…if only Piper would open her heart. But the loss of her daughter has irrevocably shaped her life. And having given so much of herself away, she's not sure if she can give Ned all that he deserves. But with him at her side, Piper just might learn that a heart's love is never truly lost.