In Chase the Darkness (Alpha Pack #7) by J.D. Tyler, Dreamwalker and wolf shifter Micah Chase thought his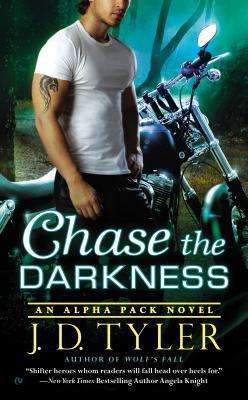 nightmare was over after being rescued from the lab where he was held captive and tortured for months. But neither his packmates nor the new medication he's on can hold back the horrific memories. Micah's life begins to look up when he meets his Bondmate Jacee, quickly becoming inseparable from the cute coyote. Someone from his past is out for revenge, however, and threatens Micah and Jacee's happy new life together.
"I'm falling hard for you. It can't be that big of a surprise."
"No, it's just…" Just as her heart was starting to sink, he beamed at her. "I'm falling for you, too, my pretty coyote. God knows what you see in me, but for my sake, I'm glad you're blind as a bat."
"Ha, you're so funny."
Coyote shifter Jacee has been battling loneliness for years, never daring dream she'd find her intended Bondmate. Then scarred-but-magnificently-sexy Micah comes to her rescue and her life changes completely. Jacee is more than willing to help him battle the demons inside from his time in captivity, but when Micah comes under attack physically, her coyote stands up and gets ready for the fight of their life. She'll do anything to save the sensitive, passionate man with whom she's going to spend the rest of her days.
'It had been so long since she'd enjoyed companionship of any kind, and her family had been gone for years. And now to feel the wind in her face and the earth under her paws alongside the wolf who would be her Bondmate? Heaven. Pure and simple.'
Strong emotions and internal battles reigned supreme in J.D. Tyler's latest Alpha Pack novel, Chase the Darkness. Compelling characters Micah and Jacee also battled against evil to save their lives, as well as those of Michah's loyal packmates.
'A few short months ago, he never would have believed there'd be a time when a smile would cross his lips. When laughter would warm his soul. When a beautiful mate would capture his heart.'
I love it when two characters are brought together in a story and it just clicks immediately. That's exactly what happened here. Coyote shifter Jacee and wolf shifter Micah were perfect for each other and were such a cute, loving couple. They had both been to hell and back so to see them band together and support each other through their emotional and/or physical healing was so satisfying as a reader.
I'll admit I wasn't a fan of how some of Micah's packmates treated Jacee to begin with. She'd had a casual relationship with a shifter in the pack and people were treating her like she was easy, even though they didn't say the same about the guy. Hmmmm… But, those who dissed Jacee at first soon realized how committed and in love she was with Micah so they changed their tune. Thankfully. Jacee went on to not only make friends within the Alpha Pack, but proved how strong she was as Micah's Bondmate. Loved that!
Micah was in a dark place when Jacee first entered his life which was a little bit difficult to read. But I adored his transformation as this story played out, watching him become playful and flirtatious with his mate. (Read: super naughty dirty talk!!) Micah went through a LOT to finally get his HEA with Jacee, not just in this book, but also during his time in captivity that was touched upon in previous installments. His situation was the stuff of nightmares and it made my heart break for such a genuinely good person to have gone through it.
Paranormal romance fans are bound to connect with our hero and heroine in Chase the Darkness. This wild ride was not only entertaining, but it was also filled with an underlying theme of hope, strength and love.
Book Info:

Published August 4th 2015 | by Signet | Alpha Pack #7
The author of Wolf's Fall returns with her "hot and to die for"* Alpha Pack—a top-secret band of Navy SEALs with Psy powers and shifter prowess whose dangerous missions sometimes require a more intimate call to duty…
Believed dead by his Pack mates, Micah Chase, a wolf shifter and Dreamwalker, was held captive for months, subject to tortures that left him physically scarred and emotionally unsettled.
Now under the care of the Alpha Pack's doctors, he's been prescribed an experimental healing drug, but he still can't shake the nightmares. Even more damning is that Micah's problems pose a danger to his team, and if he doesn't get himself under control, they'll all suffer a terrible fate.
There is a key to his salvation. Jacee is a beautiful coyote shifter, and though her kind is hated, she's falling in love with a man whose very future is in her hands. Together they'll face his personal demons as well as a deadly enemy—and for both of them desire has never come with such risk.
*Dark Faerie Tales