I cannot tell you how bitter sweet it is to write this review for All Wrapped Up (Pine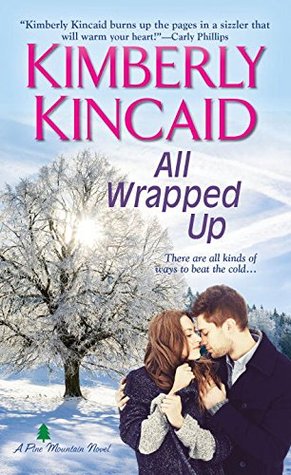 Mountain #5) by Kimberly Kincaid. I have loved this series since book one, loved each and every character, have counted down the days until Brennan's book was releases, and was crying by the end of it all. As with each of the books in this series they can be read as a stand alone no worries about being lost. This is the final book in the Pine Mountain Series. This is Nick and Ava's book.
Nick Brennan is the manager at the Bar and Grill in Pine Mountain. Running away from his past, hiding secrets and trying to make a fresh start for himself. When a fire at the grocery store and a heroic rescue of a little boy push Nicks past to the present, the demons of his past might just catch up with him. This includes the one woman that ran from him 7 years earlier without a word, the woman that he loved, the woman he lost, the woman that he still can't forget, Ava Mancuso.
Ava ran from Nick 7 years ago so that he would not find out about her abusive parents and her past. Thinking that she was unworthy of his love, knowing that she loved him with all her heart, she broke her heart in order to save Nick. Ava is now a reporter, trying to make her way and prove her worth. When she unexpectedly finds herself in the middle of the grocery store fire, she is able to get an exclusive with the man that has held her heart for 7 years. Knowing that there is more to Nicks story, Ava will dig to uncover the past.
But when Nicks past comes back full circle and the truth is known, it will take everything that Ava has in her to prove to Nick that he is worthy, that his is strong, that his past was not his fault.
I loved the story of Nick and Ava. Nick was so supportive when he found out about Ava's parents. Deciding to give it another go, Ava gave Nick strength and support when he needed it most. She would do anything for Nick, including destroy her own career dreams to protect the man she loved. When Nick came to Ava's defense, it was sweet and sexy and so down right beautiful. I am truly sad to see this series come to an end, but knowing that Nick and Ava's story is the beginning of a new series from Kimberly Kincaid has me on the edge of my seat.
I would highly recommend this series to anyone that loves a second chance love story, who loves romance set in a small, sleepy mountain town.
Book Info:

Publication: September 29th 2015 | Zebra | Pine Mountain #5
Talk about a hot lead…
Christmas is coming to Pine Mountain—and it has a way of stirring up memories, good and bad. Nick Brennan may manage the Double Shot bar smooth as good whiskey, but his past is a hot mess. When he runs into a burning building to save a little boy, some people start thinking there's more to his heroism than holiday spirit. And then the local reporter assigned to the story turns out to be gorgeous Ava Mancuso, the girl who got away.
Ava knows what it's like to have a past. But the changes she's seen in Nick since she knew him do more than set off her natural curiosity—his warm eyes and gruff charm have her instincts fired up. Still, all the chemistry in the world doesn't erase history, even when Nick invites her to his little sister's mistletoe wedding. Does he have a heart under all those secrets? Or is this going to be just another Christmas past?