In Christmas on 4th Street (Fool's Gold #12.5) by Susan Mallery, Christmas has always been a magical time for Noelle Perkins, and since opening her store, the Christmas Attic, she can't wait to share that excitement with Fool's Gold. Noelle has endured a lot in her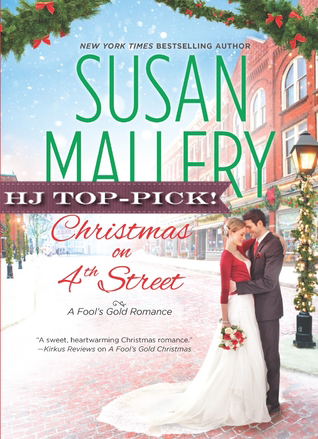 young life but has decided not to take anything for granted, to live each moment fully. And from the moment she meets handsome army doctor Gabriel Boylan, she hopes to take advantage of his limited time in town and create some magic of their own.
"Life is a gift and we need to accept it with gratitude and a full heart. I don't want to be with someone who doesn't believe that with me."
Noelle is normally a long-term relationship kind of gal, but it's clear Gabriel is more than skittish about the thought of love and forever. So she decides to take what she can get and worry about the rest later. Only Noelle never imagined she could fall so fast for someone. With Gabriel's career at an impasse, can she convince him to take a chance on a life with her in Fool's Gold?
'She looked at him. Sexy, charming, a doctor, honorable and not having sex with her. Was there a complaint card for life, because if there was, she had a few things to say.'
Army doctor Gabriel Boylan has seen things he wishes he could forget. Being in Fool's Gold to recuperate from an injury gives him a chance to catch up with family, be that as it may. He's missed his twin brother, Gideon, but isn't thrilled about seeing his drill sergeant dad.
'She was unconventional. He grinned at the memory of their kiss, remembering how the exploding need had nearly knocked him off his feet.'
Ever the odd-man-out, Gabriel is pleasantly surprised when the town welcomes him with open arms. Especially a certain sweet, funny blonde named Noelle. His decision to help out at her shop may be his undoing, though, as he finds himself relying on her sunny disposition to heal his soul. When Gabriel begins to question his future, wanting Noelle as part of the equation, will he panic and run, or stay and fight for what he wants?
'He'd felt her body against his and now he wanted more.'
Oh Fool's Gold. How I love thee. I never seem to grow tired of this series and find that with every new installment, Susan Mallery's writing stays just as fresh as ever.
Christmas on 4th Street is Noelle and Gabriel's journey to happiness. And believe me, they are both very deserving of a HEA after all they have been through in their lives. Starting with their memorable first meeting at Gideon and Falecia's house, Gabriel and Noelle had no chance of staying away from each other. Their chemistry was too strong to deny and the lovely-as-ever folks in town used every opportunity to get the lovebirds together.
I'm so happy that the dialogue between Gabriel and Noelle was just as quick, funny and smart as with the previous books in this series. They were flirty and had such an easy rapport that they were comfortable with each other right away. Their problems basically stemmed from their views on love and relationships and where they saw themselves in the long run, which is a valid issue for a lot of couples. Frustrating as it may have been to get there, I did love the final outcome and had a few teary, girly happy moments.
I highly recommend Christmas on 4th Street. If you love the Fool's Gold series and/or Holiday Romance, you'll love this one!
Book Info:

 HJ Top Pick
Published September 24th 2013 by Harlequin HQN | Series: Fool's Gold #12.5
There's nowhere better to spend the holidays than with New York Times bestselling author Susan Mallery in the town of Fool's Gold, where love is always waiting to be unwrapped… Noelle Perkins just got a second chance at life, and she intends to make the most of every minute. That's why she ditched a frustrating legal career to open her own store in Fool's Gold, California. The Christmas Attic celebrates everything that's magical about her favorite season. Business is booming, and as a bonus, gorgeous army doctor Gabriel Boylan has offered to help out during the holiday rush.
Gabriel's memories of Christmas past contain more sour grapes than sugar plums, thanks to a drill sergeant father who ran his home like a boot camp. Spending the holidays with his family while he recuperates from injury sounds as appetizing as last year's eggnog. Still, there are some enjoyable distractions in town, including sunny, sexy Noelle…and the red-hot mistletoe kisses they can't stop sharing.
Gabriel didn't think he was made for happily-ever-afters. But when fate hands you a love as sweet and surprising as this, only a fool could refuse….