Christmas With Her Millionaire Boss by Barbara Wallace: Wanting to belong, spending your entire life trying to fit in, to find your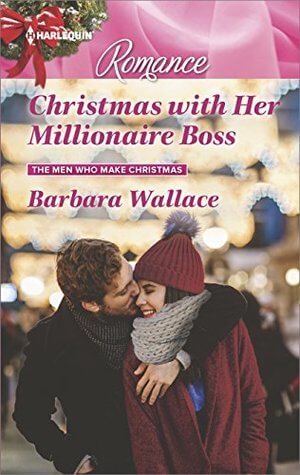 one perfect place. You find it, and then something threatens it. What do you do?
Noelle Fryberg was trying to figure that out. She wasn't sure what she was supposed to do. Or what she wanted to do. Everything was changing, her comfort zones weren't there any more. Could she convince her new boss that things could stay the same with just a few tweaks and he could make money?
James Hammond knew how to come in and make bank. That's what he was good at, people's feelings, understanding connections? These were not things in his system. He would never be good at them so he thought. He was more able to make a buck than make a friend.
Noelle and James couldn't be more different in their thinking but when James ends up stuck with Noelle for a length of time will either of them be able to take a step towards the other?
This is a very sweet romance that Ms. Wallace brings her readers. There is a great fire in Noelle that Ms. Wallace displays beautifully. The story begins at a magical time of year where you never know what is coming around and that is conveyed beautifully with the words and images the readers are given. This is definitely worth a read for the feel good moment of the holiday.
Book Info:

Publication: October 23rd 2017 | Harlequin Romance | The Men Who Make Christmas
The magic of Christmas…
Abandoned by his mother on Christmas Day, James Hammond wishes he could erase the date from his calendar. So, when his company acquires a new toy store devoted to the holiday, he wants to quickly seal the deal and return home. Until he finds himself injured and under the care of employee Noelle Fryberg!
Nobody loves Christmas more than beautiful, young widow Noelle! And she's determined to show her cynical new boss how magical it can be. Could she be the one to melt the millionaire's guarded heart?