The Christmas Room by Catherine Anderson: Cam is loving life in Montana with his mom, Maddie, and teenaged son, Caleb. He's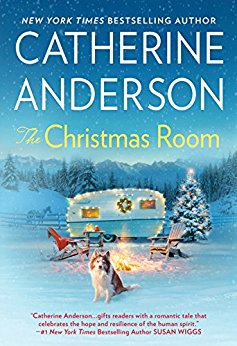 creatively built a makeshift camp for his family while waiting for construction on their home to begin. He's smart, sexy, loyal, dedicated, and determined to create a great life for his family after losing his father. Kristin loves her dad and loves working on the ranch, but she's about to lose it if her dad continues to treat her like a child. She's a hard-worker, smart, loyal, tough, and sassy, but she's become adept at lying and creating excuses to get out from under her father's controlling thumb.
When they meet, both feel the instant connection. It's risky for Cam to follow through on his feelings with her dad's reputation, but he takes the chance anyway. They have a lot in common and their feelings are involved from the beginning, but Kristin's dad may stand in the way of their happiness.
"Tomorrow?"
She smiled. "Is this our version of jumping in with both feet?"
"I'm not one to jump into anything, but I don't hesitate to move cautiously forward when something feels right."
Maddie is a bestselling writer who enjoys plotting out the next murder in her popular series. She's strong and sassy while still missing her husband and keeping secrets. Sam used to be a great neighbor and friend, but he become a grumpy old man who drove away friends and neighbors after losing his wife. Maddie and Sam are immediately at loggerheads and develop quite the grudge. They end up finding companionship and maybe more as she brings out a different side of him.
He looked at her as if he couldn't quite believe what she'd said. "Are you kicking me off your property?"
Maddie pointed toward his ranch. "That's how white trash people deal with obnoxious, foul-mouthed neighbors. Make tracks, Mr. Conacher. If you trespass again, I'll call the cops."
The Christmas Room is heartwarming and sweet. Catherine Anderson blends together family, friendship, romance, forgiveness, and starting over with the holidays. Ms. Anderson created a wonderful cast of characters and seamlessly moves between all five points of view. Fans of Jamie Beck and Cindy Kirk will enjoy The Christmas Room.
Book Info:

Publication: Published September 26th 2017 | Berkley |
The beloved author of the Mystic Creek series gifts readers with a novel of homespun holiday cheer, as two families discover the joy of hope and redemption….
Widow Maddie McLendon has uprooted her life to move to Rustlers Gulch with her son and grandson. But as a brutal Montana winter looms on the horizon, contractors have yet to break ground on their new house, leaving them to live in a makeshift camp of trailers, tents, and sheds….
Since his wife died six years earlier, millionaire rancher Sam Conacher has been content to wallow in his grief alone, while keeping a tight rein on his twenty-six-year-old daughter. But now the girl has gone and fallen in love with his foolish new neighbor's no-good son….
Maddie and Sam will never see eye to eye on anything, until a near-tragedy gives them a true glimpse into each other's souls. And as the first snowflakes begin to fall, they'll discover that an open heart is the biggest gift of all….