Claiming Bailey by Susan Stoker is the third book in the Ace Security series. For those who have read the previous books, you are aware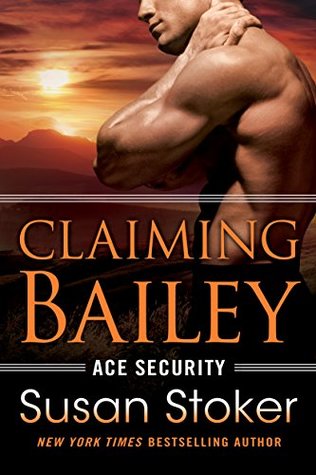 the Anderson triplets, and owners of Ace Security, have been on the look out for Bailey. They know now that Donovan, the leader of the Inca Boyz gang, is going to want her and her little brother after she escaped the gang. Luck happens to be on Nathan's side when his car breaks down and Bailey comes to his aide. The more time he spends with her and Joel, the more determined he is to protect them both.
Bailey may have made some poor choices in her life, but she didn't deserve the treatment she received by the Inca Boyz. I loved how Nathan stepped up and showed her time and time again that she was worth more than who they made her feel. Her love for her nine year old brother is obvious, as she took him away from the gang to save him from that lifestyle, despite the danger it put her in.
Nathan considers himself a nerd. He's not very experienced with woman, and he's more comfortable behind the scenes while his two brothers, Logan and Blake, went on the missions. This time, however, he steps up to the plate and out from behind his computer, doing whatever he can to keep Bailey and Joel safe. Whereas he made Bailey feel better about herself, she also does the same for him. Whenever he put himself down for being nerdy or inexperienced, she works to convince him that there's nothing wrong with the way he was.
I loved Nathan's interactions with Joel. Joel, after being exposed to the gang for so long, has conflicting feelings about how he should treat women, as the gang had zero respect for them. He struggles between doing the right thing and acting the way Donovan taught him. He needed a good man to set an example for him, and Nathan does just that.
"If you hear nothing else that I say, here this."
Nathan paused and leaned into Joel.
"Are you listening?"
Joel nodded quickly.
"A real man doesn't talk down to a woman. Not his sister, not his girlfriend, not his wife. If he's upset, he talks to her calmly and rationally. He doesn't call her a bitch, like you did today when all Bailey did was try to give you the phone to talk to me. He doesn't yell at her, and he never, ever hits her. I know you've been confused because of what Donovan told you and what you've seen. But you should be thanking your sister every night for getting you out of Denver and away from that sleazeball Donovan and his friends."
Claiming Bailey works as a standalone, but I also recommend reading the two previous books in the series, Claiming Grace and Claiming Alexis, because they both have events in them that lead up to Donovan's arrest and the current chaotic state of the Inca Boyz gang. The events are briefly referred to in this book, but if you want a more detailed explanation of what happened you'll want to read those. Having read those as well, I can tell you they're also good books. This one, however, was my favorite of the group.
There's a twist at the end I didn't see coming, and I'm looking forward to seeing how the Anderson triplets take the news. It also sets up a potential relationship for Felicity, a friend of Grace's, who is the wife of Logan Anderson, Nathan's brother. I'm looking forward to seeing what Felicity's story is, because it's clear that she's been running from someone. It will be interesting to finally get the story about her past.
This would probably fall under the romantic suspense category, but there's not a whole lot of suspense in it. The majority of the story was about Nathan and Bailey's relationship with one another, their relationship with Joel, and how they all help each other heal from the hurts of their pasts. I found myself unable to put the book down and read it in one sitting. I recommend it to anyone who likes a good romance mixed in with a small dash of suspense.
Book Info:

Publication: December 5, 2017 | Montlake Romance | Ace Security #3
Bailey Hampton will do whatever it takes to keep both herself and her little brother safe from the vicious Inca Boyz gang. Hiding out in Castle Rock, Colorado, is only a temporary solution until she can earn enough money to get out of the state altogether. But when she meets handsome security nerd Nathan Anderson, she discovers a reason to stay and fight for what she wants.
Ace Security's Nathan Anderson has always been the "numbers guy," not the man any of the firm's clients look to when their safety is threatened. But from the first time he ran into Bailey, she never made him feel like less of a protector than his brothers. Nathan was attracted to the petite, black-haired pixie with wild tattoos from the start, and by some miracle, she seems to return his interest.
But danger stalks Bailey and her brother, so it's up to Nathan to channel his inner alpha and find a way to end the threat to their lives once and for all—and he's not giving up Bailey without a fight.