In The New Year Baby Surprise (The Ultimate Christmas Gift #2) by Sue Mackay,, after giving birth to her best friend's baby as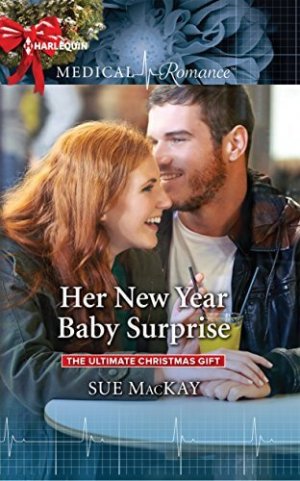 a surrogate, Emma Hayes is on the road to recovery. However, it isn't easy for her having been the one to carry the baby for nine months and then give it up, but she's doing the best she can to deal with knowing the baby isn't hers. Luckily, she has a handy distraction in ER doctor Nixon Wright. Will she be able to convince Nixon that they're right for each other, so they can achieve happy ever after; or will his past keep him from getting close to Emma?
 "I think you're using me as an excuse not to let go and have some fun for a change," she dragged out over a mouthful of disappointment.
"You might be right, to a point." Green light, and he pulled away. "I don't want a relationship that I can't walk away from at any moment. I told you what happened to my family and the result is I'm ultra-cautious about getting close to anyone. I could hurt you, Em, and that's not happening."
This is the fourth book I've read by Ms. Mackay, and I've got to say that Nixon is the best hero of the stories so far. Everything about him – his back story that makes him guarded, his kindness that makes him a good doctor, and everything he does to take the heroine's mind off her lingering sorrow – made this story a total page turner and I thoroughly enjoyed his point-of-view from the moment he was introduced. The way this story started had me sympathizing with the heroine, as having to give up the baby she carried as a surrogate can't be easy. However, it was from the moment the hero and heroine came face-to-face for the first time that completely drew me into this story, as Nixon will do anything to help the heroine through tough times.
As for the dialogue, it was intense and very entertaining due to the main characters back stories that had me sympathizing with them both, as Emma's ex was an abusive jerk that she's lucky to have gotten away from and Nixon closed himself off to love when he lost his family in a tragic accident. Will Emma get the second chance at love she deserves? Will Nixon realize what he feels for Emma goes way beyond friendship before it's too late? Moreover, the heroine is resilient and courageous in overcoming her lingering feelings about carrying a baby for nine months and then having to let her go to her rightful mother. I also liked how determined she was to win the hero over by making him face his fears about getting close to people. Will Nixon realize the benefits of having love, family and happiness in his life outweighs the risk of taking a chance with Emma?
 "Ever thought of coating yourself in chocolate?"
Nixon's head jerked up. "What? You want to lick it off my, by any chance?"
"Now there's a thought."
"I'm not going to ask where you're going with this one."
While the hero, losing his family when he was young wasn't easy and it closed him off to getting close to people for fear of losing them too. Furthermore, he's confident, hard-working, driven and I liked how determined he was to help Emma by taking her mind off what she's just gone through by being a surrogate. I also liked how determined Nixon was to remain friends with Emma. Yet, it's palpable that they'll never be just friends. There's too much chemistry sparking between them for things to remain platonic. Yet, what I liked most of all about the hero was the growing bond he shared with the heroine's daughter. The little girl is adorable and definitely shows how much she adores Nixon with her enthusiasm every time he's around.
Overall, Ms. Mackay has delivered a beautifully-crafted and emotionally-rousing read in this second book of The Ultimate Christmas Gift series about second chances; the miracle of the holiday season; and that love is everything, especially when the benefits of family and happiness outweigh the risks of losing another person for the hero. The way this story ended left me smiling because no one deserves happiness more than these two and I loved how Nixon proved to Emma how much he wanted a future with her and her daughter by giving her something she's wanted forever. However, it was the epilogue that wrapped this story up nicely because Christmas is a wonderful time and there's so much to be celebrated, especially with the surprise Nixon has for Emma. I would recommend Her New Year Baby Surprise by Sue Mackay, if you enjoy second chance romances, the friends to lovers trope, or books by authors Amy Ruttan, Louisa George, Annie O'Neil and Carol Marinelli.

Book Info:

Publication: December 1st, 2017 | Harlequin Medical | The Ultimate Christmas GIft #2
A new baby of her own?
Nurse Emma Hayes was happy being a surrogate to give her best friend, Abbie, her baby. She has her own daughter Rosie and everything she needs. Until handsome ER doc Nixon Wright gets under her skin!
Having lost his family young, Nixon is wary of falling in love. But there's something about Emma… Soon he's fallen under her spell, with very unexpected consequences!
Nevertheless, Emma faces the New Year full of hope for the future. But will the new baby they've created together be enough to melt Nixon's frozen heart?