Confessions of a Royal Bridegroom by Vanessa Kelly: Justine Brightmore loves her family more than the world. Never really knowing her mother and then losing her father at a young age she clung to her "Uncle" Dominic and to her Aunt Sarah. So when Uncle Dominic asks her to come to London to take care of a baby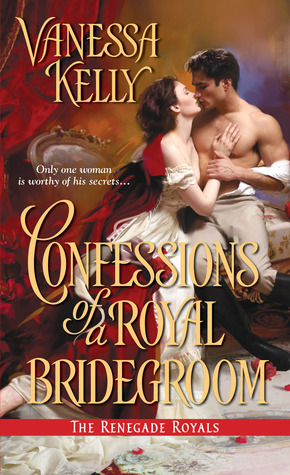 who is in a bad place how could she refuse? So what if she will have to see past the hurt of not "taking" in either of her seasons, she is there for Dominic and for the baby.
Griffin Steele abandoned by his parents as a boy, born on the wrong side of the blanket his father part of the royal family and his mother a very young serving girl, was raised by his uncle until the age of 14 when he became truly alone in the world. This didn't stop him though, in fact it fueled his desire to do something big and then to leave England and never come back.
When a baby is dropped on Griffin's doorstep he knows his life will never be the same, the exact same way he knows that the baby isn't his. When Justine enters his life to help with the little one Griffin just wonders if she is a blessing or a curse. Will plans stay true, or is a little deviation a good thing? Griffin has a lot of secrets and while Justine is okay with some he is going to have to unbury some of them and then what will happen?
This is the second book in a series, though it can be read as a stand alone work. Although I have to admit I don't know why anyone wouldn't want to read all of Ms. Kelly's work. She will have you falling in love with Justine transformation and at the same time you want to kiss Griffin you want to hit him over the head. Justine's character though was a true work of art to watch her come to terms with growing up and growing into herself. I'm not just suggesting this work, I'm recommending you read it now! Don't put it on the TBR list/stack pick it up, but be aware of two things, one you won't want to put it down and two there is another coming… which I want now! ☺
Book Info:

Published April 1st 2014 by Zebra
Some men are born into scandal. Others pursue it with a passion. Griffin Steele, secret son of the Duke of Cumberland, is guilty on both counts. Yet somehow London's most notorious scoundrel has been saddled with an abandoned baby boy—and with the unflappable, intriguing spinster summoned to nurse him…
Justine Brightmore may be a viscount's niece, but she's also a spy's daughter, determined to safeguard the infant when his suspected royal parentage makes him a target. Yet how to protect herself from the rakish Griffin? Marriage might shield her reputation, but it can only imperil her heart, especially with a groom intent on delicious seduction…