Convenient Cinderella Bride by Joss Wood is the first book in the Secrets of the A List multi-author series, and an excellent start to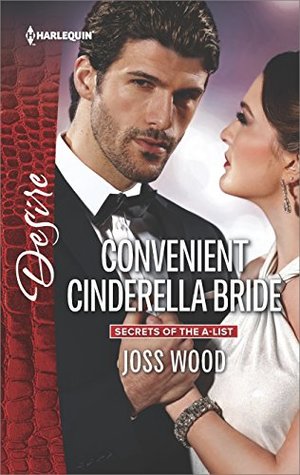 what looks to be an intriguing set of men who meet their love matches!
Jonas Halstead has been given a 3 month deadline from his grandfather to get married or risk losing his place in the family hotel company. The wealthy billionaire takes this threat seriously, having worked hard to rehabilitate the company's reputation. He'll do what it takes to stay in control, even if it means a marriage of convenience. And lucky for him there's an intriguing woman who has caught his eye.
Katrina Morrison is able to put a pleasant smile on her face as hostess of an expensive restaurant but inside she's stressed out with the reality of her financial woes. When Jonas, a regular patron of the restaurant offers her a business arrangement that could solve all her problems, she knows she can't say no. But she can guard her heart, having learned that trusting men leads to heartache and disaster. The sparks between them make their 'engagement' before the wedding one of sweet and sexy surprises. Will this match made on paper become a life long love affair?
I thoroughly enjoyed this story from start to finish! For several reason, Katrina is fiercely independent when it comes to her finances and has difficulty accepting help from anyone. Even when she makes the deal with Jonas, she's clear that she wants the bare minimum from him that will get her through the arrangement, most of it for her aunt who is undergoing cancer treatment. She comes across as a lovely woman with a sensitive side who deserves an affectionate and caring partner.
Jonas may have entered into this business deal with Katrina under pressure but he doesn't regret it one bit. He's been attracted to her ever since he met her at his friend Harrison's restaurant. Jonas is kind, generous and thoughtful, and he finds Katrina's stubbornness to accept help sometimes frustrating but he respects her choices. Though he agrees with Katrina that any sex they might indulge in will be separate from their marriage agreement, the sizzling chemistry between them and the intimate moments they share make it harder and harder to keep their feelings in check. Eventually Jonas makes some decisions that affect them both, but they get their happy ending in a very satisfying way. Convenient Cinderella Bride is a sexy and entertaining romance with a couple that are perfectly matched!

Book Info:

Publication: Sep 01, 2017 | Harlequin Desire | Secrets of the A-List
Prince Charming—With Strings Attached
Billionaire playboy Jonas Halstead has exactly ninety days to marry—or be cut off from his family's hotel dynasty. What he needs is a practical, like-minded woman who isn't looking to be swept off her feet.
Jonah's seductive offer could save Katrina Morrison from financial ruin. But how can she be his wife in name only with desire tempting them to break the rules of their strictly hands-off arrangement? As passion complicates the journey to "I do," will Kat lose her heart to the man she's agreed to honor and cherish for however long their temporary marriage may last?