In So Bad It Must Be Good by Nicole Helm, Kayla Gallagher is finally free from all the demands of her family. She's finally going to live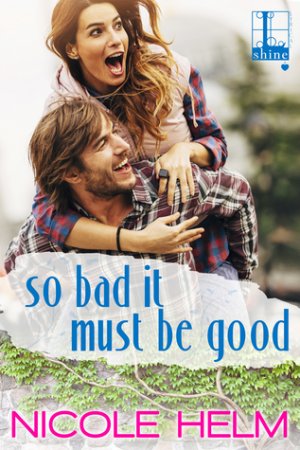 her life the way she wants to. The first step is accepting a date from bad-boy Aiden Patrick, only his brother, Liam, shows up instead. Kayla has always felt awkward around Liam, and he has barely even spoken to her. But as they spend more time together, they learn to open up. Only Aiden feels like he's been wronged by the pair, and Liam, who likes to fix everything, doesn't know how to make it right.
I'm not quite sure where to start with this one, so I'll start with Kayla and her family. She wasn't happy working at the family business so she quit, and they cut her off? That seemed a little drastic. Her grandmother and her father wouldn't talk to her. I have no idea where her mother was in all this because she's not even mentioned. Then Kayla cuts herself off completely from her cousin, who happens to also be her best friend, simply because she still works at the Gallagher family business. In my opinion, that was a little over the top on Kayla's part. She didn't like it when she was cut off by her father and grandmother, why would she then turn around and do the same thing to her cousin, just because of where she worked and because she was a family member?
Aiden is, well, messed up. He stood Kayla up, begged Liam to take his place on the date, and then gets upset because Liam and Kayla decide to start seeing on another. He gets to the point where their mother is afraid he's going to hurt himself and begs Liam to give Kayla up. It was over the top. I didn't understand why he felt so inferior to Liam, when it was clear their mother doted on him and took his side more than Liam's. Then what threw me off is in the Epilogue, all his issues are suddenly gone with no explanation. The one-eighty left my head spinning.
Liam can best be described as a pushover. He wants to help everyone, even at the expense of his own happiness. He lets his family take advantage of him, and it often seems like they don't appreciate him. It's clear his parents take Aiden's side, even though Liam is the one working in the family business even though he doesn't want to be, while Aiden just takes off time and time again to who-knows-where. Kayla doesn't like the way he's treated, and she often gets frustrated with him because he allows his family to treat him poorly.
=="Her sons, both of them her sons, got in a fight and she chose one to take care of? Well, that is bullshit, Liam. Bull. Shit. How dare she?"
"He needs–"
"What about what you need, for heaven's sake?" She cupped the side of his face she wasn't holding the quickly thawing bag of carrots to. "What about you?"
He blinked at her as if she spoke some foreign language. Did he not…Did he never think about himself when it came to his family?==
This isn't listed as part of a series, but there is another book, So Wrong It Must Be Right, which came out before this one and is about Dinah, the cousin Kayla cut out of her life. Not having read it, I don't know if maybe it would have provided a little more insight into the relationship between the two women and why Kayla would want to cut her out of her life. Dinah and her boyfriend make some appearances in this book as well.
This book had too much over-the-top drama for my liking. It's mainly between the characters and their respective families, but then it's also between Kayla and Liam as well. When Kayla tells Liam over and over again how the way he's treated by his family is wrong, he agrees in his mind yet disagrees with her out loud. It was if he knew she was right but at the same time felt he had to defend his family, who really didn't deserve for him to stick up for them.
The book started out well, I'll give it that, but it went quickly downhill after Kayla and Liam got together. By the end of it, I didn't care all that much about any of the characters or what would happen to them. The book had promise, but with all the drama and characters who all seemed to have nothing but issues, it failed to deliver.

Book Info: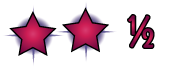 Publication: August 22, 2017 | Lyrical Press |
Free of her overbearing family and their dreams, not hers, Kayla Gallagher is living for herself instead of for her clan's successful restaurant. Step One: finally make her move on Aiden Patrick, the bad-boy son of Gallagher's long-time repairman. Too bad Aidan's taciturn older brother shows up instead . . .
As the "responsible Patrick," Liam has always made a conscious choice to do the right thing. He likes fixing things for people—whether it be a broken appliance or a bad situation. Which means he can't just brush off the quiet Gallagher. Clearly, she needs a shoulder to lean on. But suddenly a shoulder becomes so much more, and Kayla isn't the quiet little girl she used to be. She's a vivid, down-for-anything woman showing Liam several sizzling ways to put passion first . . .
As things heat up between them, Liam's family threatens to come apart for good. The only way Liam can set things right means giving up Kayla. But she's not about to take no for an answer—or let their chance for something sweeter than desire crash-and burn without a fight.