Conveniently Wed to the Greek by Kandy Shepherd: Sometimes life comes at you from all different angles. Sometimes it take a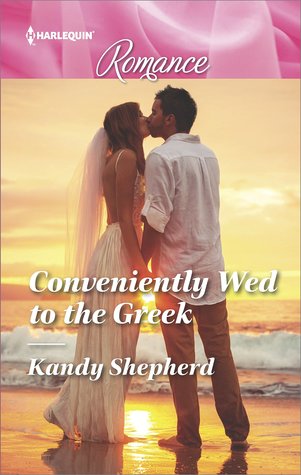 massively traumatic event for you to stop and see what is really important and sometimes you just have to accept it.
Adele Hudson is at a weird place in her life. She isn't really sure what side is up. So different from her family she can't even really reach out there for the support she needs. Now when she needs it the most why is it that the person least likely to give it to her is the one reaching out? Can she trust him? Or will this just be another ruthless scheme?
Alex Mikhalis realizes now that he never really knew what was important in life. It took one heck of a life shattering event to make him realize that and now it may take another to help him get his life back on track. Why? Why can't he realize things? Why does it always seem to take death or the threat of death to help him get his train back on the track?
Thrown together with the other being the only life vest can these two struggle to stay afloat? Or will this ship go down more quickly with two?
This is a very sweet romance. Ms. Shepherd has doen exceedingly well in giving us a story that is full of love and sweetness, though it is more about learning to love ones self than in loving another. However there is one line "She is my wings" that makes the coming to knowledge moment one of the best. For that scene alone this book is worth the read.

Book Info:

Publication: May 9th 2017 | Harlequin Romance |
A marriage for the sake of her baby…
When luxury hotelier Alex Mikhalis encounters the blogger who once nearly destroyed his reputation, he wants to get even. Only Adele Hudson isn't exactly as he remembers. She's pregnant and alone, and he can't stop his protective instincts kicking in!
After a difficult breakup, Adele is very wary of all relationships. She has no choice but to accept the Greek tycoon's offer of a job, despite their complicated past. But his next suggestion is much more intimate: becoming his convenient wife!