In Countering His Claim by Rachel Bailey, Luke is furious to learn that his uncle Patrick left him only the half ownership of his luxury cruise liner Cora Mae and the woman who inherited the other half is proving too much of a distraction. He wants the full control of the ship but ship's doctor Della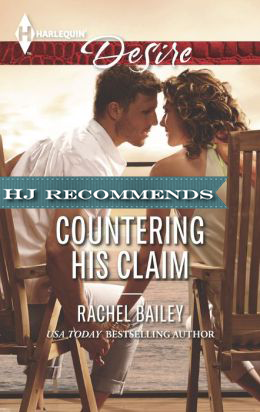 Walsh does not agree with his plans to turn Cora Mae into a floating hotel. She has always considered Cora Mae as her safe haven and now she has three weeks to convince Luke to change his mind until passion comes cruising along to steer them off .
Della, one arm around her waist, pointing skyward. "Shooting star."
"Oh," she said on a long breath, her gaze following his finger.
The feel of her against him was mesmerizing. Absorbed in the moment, she'd forgotten to be on her guard and allowed her soft curves to meld into his side, her head resting back on his shoulder as she tracked the star's path.
"Make a wish," he murmured beside her ear.
A kiss. In this moment, all he wanted was to turn her to face him, to lean down and touch her sweet lips with his
Countering His Claim by Rachel Bailey is a well written Harlequin Desire with emotionally scarred characters who find love in each other on high seas. The romance was medium paced filled with conversations and passion which makes it so believable. Luke was the best part of the book and a complete prince among men because of the way he treated not just the heroine but everyone. Della was also emotionally damaged but I found her more scarred than Luke because of what she had gone through. I liked her because she was very realistic,mature and I was never annoyed by her.
"Della," he rasped as he wrenched his mouth away to drag some oxygen into his lungs.
She stilled and looked up at him with eyes that were suddenly alert…and stunned.
"It's okay," he whispered as he rubbed a thumb over her damp bottom lip.
She unwound her arms from his neck and let them fall to her sides. "No, it's not."
It was a very non fussy and simple HEA ending,which was not bad but I expected a very grand HEA ending because given the amount of troubled past they both had.
Overall, Countering His Claim by Rachel Bailey takes you to an emotional cruise with realistic characters and interesting plot line. If you like the concept of two damaged souls becoming one together then you will like this but stay away if too much emotionally damaged characters are not your favorites.
Book Info:

HJ Recommends Ipshita
Published October 1st 2013 by Harlequin
Never be distracted by a woman is hotel magnate Luke Marlow's golden rule, especially when the woman just inherited half his late uncle's luxury cruise liner. But ship's doctor Della Walsh is the exception. Her dignified beauty ignites Luke's desire despite his suspicions. Even so, he will gain full control of the ship at all costs.
For Della, the ship has been a sanctuary. Now she has just three weeks to change Luke's mind and save the ship until passion comes along and steers them off course