Crossing the Line by Audra North: The lone female in pro racing sports journalism, Corrine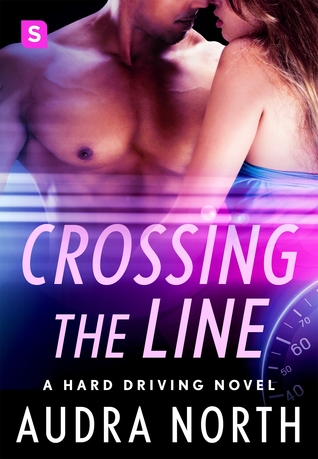 will do anything to get ahead and actually get some of her articles out there since her sexist boss won't actually send her on assignment. So when he tells her to lose her ethics and do whatever she can to find out race car driver Ty's secrets, she unhappily agrees.
But when Cori and Ty meet, attraction blossoms instantly. With the secrets Ty has to keep for his father, he's suffocating under the burden and his desire to fight back against the rumors about him cheating. Once he meets Cori, he finally sees someone who's there for him and not spreading more lies.
Once Ty starts truly trusting her, though, as the one person he believes to be honest, she knows she can't go through with her boss's orders. Instead, Cori strikes a deal, but if it doesn't work out in her favor, she'll have to choose between her newfound love and her dream career.
He came closer, closer, very close…he wasn't stopping. Why wasn't he –
"Oh!" The word was more like a small sound on a puff of air as he reached out and wrapped an arm around her back, pulled her flush against him, and put his mouth on hers.
Quick-paced and sexy, Crossing the Line was fun. Although these characters were a bit too angsty for me, they at least had the sexual tension going for them. I can't say I loved the plot, race car drivers and lots of secrets just don't work for me, but even so for me it was the Hershey Kiss of romances. It hit the romantic spot I needed in my day.
I know I should probably feel sympathy, but I really hated Ty's dad – odd for how little he was in the story, but I just was extremely unhappy with the burden and lies he placed in Ty. Also, Cori's boss, the guy you love to hate. Everyone else though, enjoyable, but the main focus was 100% on Cori and Ty – which I'm definitely happy about because it is a short read.
The third in a series, Crossing the Line can be read as a standalone. But if you love racing, I would definitely recommend reading the entire series. Also, it's got a lot of women in a male world going on which I always find entertaining.
Book Info:

Publication: June 14, 2016 | SMP Swerve | Hard Driving #3
He wanted her the first time he saw her. It didn't matter that he was on stage in front of a room full of reporters, or that his publicist was telling him to move on, or that she was asking him a question about racing. One look at her "just been bedded" hair — completely at odds with her deliciously prim appearance — and Ty Riggs is hooked.
Corrine Bellows is one of the woefully few women in a male profession: sports reporting. In a field where "Hey, sweetheart, can you fetch me a cup of copy" is part of her job description, she's determined to keep things professional. And while interviewing Ty Riggs, the hottest new driver on and off the track, is a major scoop, Corrine knows that she is in major trouble when it becomes clear that Ty wants so much more and is determined to get it. As things heat up between them, Corrine finds herself on shakier ground. Her big secret just may destroy everything.