Cuba Undercover by Linda Bond: All Rebecca wanted was a promotion to the Special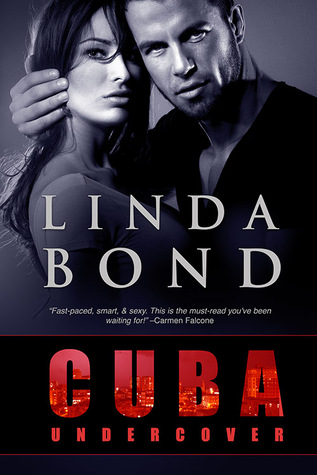 Investigation unit. While leaving the courthouse after covering a story that could help her with that, both she and her photographer get kidnapped by Antonio and his friends. He offers her a chance to cover an even bigger story, which she reluctantly agrees to.
This was an action packed book. Almost as soon as they dock in Cuba, they're confronted with the realities of the country's financial crisis and the desires of some of the residents to escape. They have to hide from Angel, the fiancé of Antonio's sister and a local government member. They have to hide from the authorities. They're always on the move.
I liked how Antonio didn't randomly pick a reporter to cover the story of rescuing his sister, Maria, from an abusive relationship. He purposely researched Rebecca and found out she had a soft spot for domestic abuse cases. Even though he kidnapped her, he was considerate, making sure she remained safe. He even took the time to discover when her birthday was and threw her a party, showing her that he genuinely cared. In return, she shows her feelings by not giving up on him. Together they're both determined to show the world what exactly was happening in Cuba.
I really enjoyed the descriptions of Cuba and plight of its people. The author has a good understanding the humanitarian issues and the political environment that exists in the country, and she described it so well that I felt for the citizens of the people and the fact that so many of them were desperate for better lives.
A couple of things bothered me about the book. The relationship between Antonio and Rebecca seemed a little rushed; they were only together a couple of days before getting separated, then they were apart for weeks before coming together again. When they reunite, it's like they were never separated. Even though Rebecca understood Antonio's reasoning for the kidnapping, it seemed a little unrealistic that she would jump into something so quickly with him.
We also don't get a lot of background on the characters; we get information about Antonio's family and about his father's murder, but we don't get any other personal information about him until almost the end of the book. The same with Rebecca. We know she's a reporter who thinks her father's dead, but we don't really get anything else, like why she's so partial to covering domestic abuse cases and volunteering at domestic abuse shelters. While it didn't necessarily take away from the story, I think I would have understood their motivations better if I knew more about them as people, especially Rebecca since we know why Antonio wanted to go to Cuba.
Overall I thought it was a good story and it's worth checking out if you're in the mood for a romantic suspense.

Book Info:

Publication: July 14, 2014 | Entangled Publishing |
His revenge will change her life forever…
Cuban-American TV reporter Rebecca Menendez's success comes from playing by the rules. When she's kidnapped by a fierce and intensely handsome man who needs her help, however, all of those rules seem pointless. Nothing could have prepared her for being taken hostage…or the irresistible reward if she complies: information about her long-thought dead father.
Antonio Vega has spent almost every day of his adult life dreaming of revenging his father's death. With his sister's life and freedom in jeopardy, Antonio isn't taking any chances. But once Rebecca and Antonio are in Cuba, they're immersed in a world of corruption, deceit, and betrayal. It's a deadly game…and there are no rules.