In Daughters of the Bride by Susan Mallery, Maggie Watson has been a widow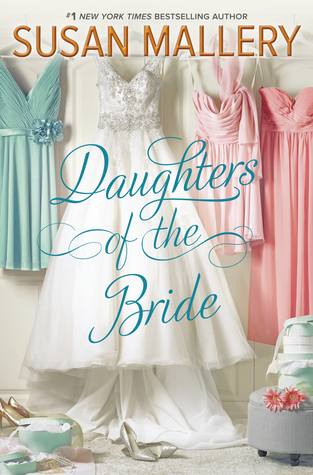 for almost twenty-four years. After losing her husband, losing their family home and almost losing their business, she's now successful and has found the love of a wonderful man. So having her daughters Rachel, Sienna and Courtney help her with the planning of her wedding is a true blessing. And she intends to have the wedding of her dreams after not getting to make any decisions the first time around. Even if it does make her daughters cringe or laugh at her choices.
"Mom, you know your tastes have changed… You might want to rethink the plan."
"No," her mother said firmly. "I know my colors are going to be every shade of pink and that there will be swans."
"Do the swans have to be pink, too?"
Her mother brightened. "Do you think you could dye them to match the decorations?"
But each of Maggie's daughters is going through their own personal dramas, too. Rachel, the eldest, is still hung up on her ex-husband and isn't sure what to do when he begins to hint at the possibility of a reconciliation. Middle daughter Sienna is shocked with an unexpected marriage proposal from her boyfriend in a very public fashion. And then there's the youngest, Courtney. She's the family misfit who has hidden her recent success from the others and who is also trying to cope with her growing feelings for music producer Quinn. Can Rachel, Sienna and Courtney manage to get their mom on her way down the aisle without everything crashing down around them?
"I didn't have to believe in him. I had to believe in myself. I had to know I would be strong enough to survive whatever happened. Because loving someone means giving your whole heart and once you do that, you have no defenses. You're at their mercy."
Daughters of the Bride was as entertaining as it was full of heart and family drama. As we follow the Watson sisters preparing for their mother Maggie's wedding, we see them learn valuable lessons about who they are as individuals and how important they are to their family.
"I honestly don't know what to say."
"Then I'll tell you that I think you're pretty amazing. Strong and determined. Sexy as hell, but then you already knew that."
Knew that she was sexy as hell? Um, no. She hadn't received that particular memo. Was there a way to get him to say it again? Or embroider it on a pillow?
This is exactly the type of story in which Susan Mallery excels. She is a master at creating honest family dynamics, complicated relationships, empowering female friendships and infusing it all with lighthearted humor. That in a nutshell is what we had with Daughters of the Bride. Told from multiple POVs, we got a real sense of how each of the sisters struggled in their daily lives and how their painful past contributed. I love reading about families coming together, trying to heal and move on after a loss or tragedy, and the Watsons definitely grew and changed for the better over the course of this book.
I know everyone will identify with the characters differently. For me, I understood Courtney and Rachel the easiest. I could see why Courtney would feel like the family screw up and wanted to prove herself to everyone. She was fun, self-deprecating and extremely capable. I was angry on her behalf several times when her sister Sienna and her mother put her down verbally. Several. Times. It made me so happy when Quinn began to not only convey his feelings toward Courtney, but stood up for her and let it be known how smart and lovely she was. I loved Quinn for that and for being so caring with his grandmother and her two dogs, Sarge and Pearl. I also loved the cute way Quinn and Rachel had of teasing each other while still being respectful.
Rachel stepped in for their mom after their father died which meant she had to grow up way too fast, taking charge of her younger sisters. It conditioned her to always believe she should do things herself and that if she left things for others to do, they'd let her down. So Rachel was quite passive-aggressive, which I'm sure will bother some people, but it didn't bug me. I actually think that behavior is quite common with a lot of woman, myself included, so it felt real. When Rachel examined her problems with her ex-husband Greg, she realized she had more of a hand in the demise of their marriage than she at first thought. Theirs was a sweet love story that we learned more about over time. I loved how their relationship changed and grew.
Okay, so there *were* some frustrating moments, for me at least. I had a bit of an issue with Sienna's attitude in general and with Maggie coming off as sort of narcissistic until towards the end. Not that they didn't have redeeming qualities, because they certainly did. It just took me a while to warm up to them. Sienna had a way of putting her sisters down, especially Courtney, that grated on my nerves. And Maggie didn't seem to realize how much it hurt her daughters when she ignored them while she was rebuilding her husband's business. I did feel like Sienna and Maggie learned how damaging they were to Rachel and Courtney over the years by the book's end, so thankfully it all worked out–and in a realistic manner.
Reading Daughters of the Bride was a thoroughly enjoyable experience. I love the time I spent with the Watson family and think romance and chick lit fans alike will embrace their journey. Oh, and be sure the check out the recipes at the end that were inspired by Maggie's wedding. Yum!

Book Info:

Publication: July 12th 2016 | HQN Books |
With Joy, Love, and a Little Trepidation Courtney, Sienna and Rachel Invite You To the Most Emotional Wedding of the Year… Their Mother's
Courtney ~ The Misfit ~
As the awkward one, Courtney Watson may not be as together as her sisters, but she excels at one thing—keeping secrets, including her white-hot affair with a sexy music producer. Planning Mom's wedding exposes her startling hidden life, changing her family's view of her—and how she views herself—forever.
Sienna ~ The Free Spirit ~
When Sienna's boyfriend proposes—in front of her mom and sisters, for crying out loud—he takes her by surprise. She already has two broken engagements under her belt. Should she say "I do" even if she's not sure she does?
Rachel ~ The Cynic ~
Rachel thought love would last forever…right up until her divorce. As Mom's wedding day draws near and her ex begs for a second chance, she's forced to acknowledge some uncomfortable truths about why her marriage failed, and decide if she'll let pride stand in the way of her own happily ever after.
A must-read for anyone who has survived the wedding of a sister, a mother, a daughter—as told by #1 New York Times bestselling author and master storyteller Susan Mallery!