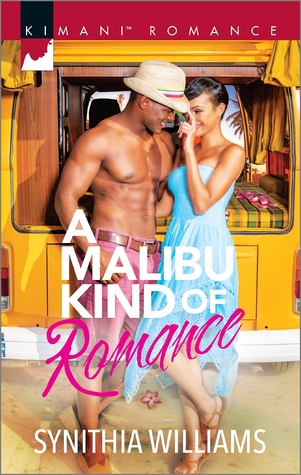 A Malibu Kind of Romance by Synithia Williams: Real estate developer Julie has been hired by superstar musician Dante to build his new club. But when he meets Julie, all he wants is to find out what's beneath the suit. But Julie isn't having any of his flirtations. She can't have a relationship with another man she's working with, not when it'll only harm her growing business.
But she's finding it harder and harder to resist Dante, even as she knows she's nothing but another fling to another musician. So when Dante starts wanting more, Julie believes she can't trust him despite her desire to.
But as Dante begins to trust Julie and show her who he is, including his desire to change his music, he realizes she is the only one supporting him and that he can't let her go.
Dante looked up, his dark gaze connecting with hers so hard she gasped out the little bit of air that remained in her chest. Oh hell, I'm screwed.
"Raymond," Dante said, his very interested eyes still on Julie, "please introduce our beautiful friend."
A quick and fun read, A Malibu Kind of Romance is an enjoyable journey into the music world. I can't say I felt much of the heat between Dante and Julie, but I liked them together. Julie, especially, was there for Dante, supporting his new direction.
Dante, I liked a little less. He felt too cliché to me, the playboy reformed overdone. But the premise with the night club and his new music was actually pretty cool. It was insight I don't normally get from the musician romances.
Overall, a fun read I recommend for those who like the musician romance and a strong female lead.

Book Info:

 July 19, 2016 | Harlequin Kimani |
Rhythm of their hearts
Slick lines and sweet nothings have zero effect on ambitious real estate developer Julie Dominick. Her love rules have thankfully saved her from dealing with messy relationship complications. But since R & B superstar Dante Wilson hired her to open his new Malibu nightclub, he's determined to add some pleasure to their business dealings. And Julie's strategy to protect her heart may not stand up to his seductive appeal.
Growing up in a music dynasty, Dante enjoys all the female attention that comes with his fame. For the first time, he knows what it feels like to be brushed off by someone he's falling for. When his usual moves fall flat, he has to show Julie the real man behind all the glitz and glamour. Will it be enough to convince Julie that it's better to break the rules rather than risk losing love's passionate melody?