Deep Under by Lisa Renee Jones is book one in the Walker Security series and immediately captures the reader's attention by diving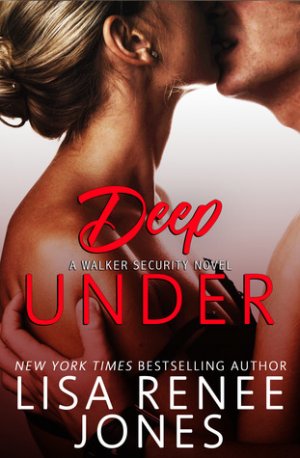 straight in with the suspense. Fourteen months ago, Myla was waiting tables, until Michael Alvarez, one of the biggest cartel leaders in the country got a hold of her. Now, her sister is desperate to find her and it's up to Kyle, one of the members of Walker Security, to secure her and bring her home.
Throughout most of the story, the reader doesn't actually know if Myla is with the bad guys on purpose or if she's being threatened. She says her sister is the one that would be in trouble if she left, but Myla is very good at hiding her motives. She doesn't run away and Michael supplies her with designer goods and her dream job. Kyle intends to find out her true motives while he's guarding her body.
Kyle stirs something in Myla, but she doesn't know if she can trust him. If she trusts him and he turns on her, it could be the end for her and her sister.
"I either resist Kyle or I won't survive. He's the apple in the Garden of Eden, and Michael Alvarez is the snake tempting me to take a bite."
It's taken Kyle a whole year to find Myla, and now that he has, he plans to stick to her side, under false pretenses, of course. Kyle doesn't let Myla know that he's there to bring her home. He has to act like he likes working for Alvarez, and is just doing what the man pays him to do…guard Myla. But, it doesn't take long for passion to get the best of them.
"I'm his. That's just how it is."
"And yet, you want me."
"I'm his."
Above all else, Myla is a survivor. She did what she had to survive and to protect her sister. She made the best of a bad situation, and in the end, Myla is instrumental in taking down Alvarez, for good! Kyle is your typical alpha male and I would definitely let him guard my body, anytime and anywhere.
Deep Under is well-written and doesn't take long for readers to become enamored with the diverse characters and the situations they find themselves in. If you enjoy suspenseful romances, this author should be at the top of your list!
Book Info:

Publication: April 17, 2016 | Julie Patra Publishing | Walker Security #1
Myla is beautiful, a dove with clipped wings, captive by the wolf, a vicious drug lord. One look into her eyes and Kyle could see the pain, the fear…the desperation. Or so it seems. He's been fooled before by a woman and it cost him everything and everyone he loved. He won't be fooled again.
Tall, dark, and deadly, these are the stories of the men who run Walker security. Each man is unique in his methods and skills, but all share key similarities. They are passionate about those they love, relentless when fighting for a cause they believe in, and all believe that no case is too hard, no danger too dark. Dedication is what they deliver, results are their reward.