#Starstruck by Sariah Wilson: Zoe is hilarious. She's awkward, introverted, a baker extraordinaire, and a trivia nerd. When she's not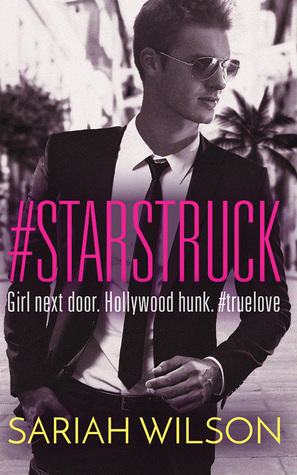 tweeting out random facts, going to classes, studying, babysitting her four younger siblings, working as a nanny, or interning for a conservation group, she's fan-girling with her BFF over the sexy actor, Chase Covington. She is smart and the epitome of the girl next door due to her unusual upbringing.
Chase outwardly has it all. Famous mom, sexy, wealthy, charming, gets his pick of great acting roles, loyal fan base, and is surrounded by people who rarely say "no" to him. He largely tries to avoid the paparazzi and instead leads a somewhat more private life. He doesn't believe in love or marriage after seeing the sky-high divorce rate in Hollywood.
Have you ever regretted something you posted on social media? Well, in a bold move Zoe caught Chase's attention when she dissed his performance in a more recently released movie in a tweet. It definitely catches his attention and starts a conversation between them via Twitter. Her honesty is a refreshing change and she stands out as someone who doesn't want to use him.
Zoe: You know that's kind of weird, right?
Chase: I'll have you know the clinical term is "crazy," I know it's weird. But I have to go. I have to meet a fan and then work. Later.
Zoe and Chase have this unique and instant connection. She definitely challenges him and treats him like a person instead of a celebrity. It's surreal to see a very different side to her celeb crush and to have captured his interest. They seem like they wouldn't fit as a couple, but she might be what he needs. He's sweet, generous, thoughtful, and caring.
"Isn't that more of a girlfriend kind of event? For people who are dating?"
He stayed quiet for so long I thought we'd lost the connection. "What do you think we've been doing here?"
"You keep calling it hanging out. I thought that's all it was. If you feel differently, that's news to me."
#Starstruck is oh so funny! Sariah Wilson created an entertaining story with great banter that I didn't want to put down. Ms. Wilson provided a diverse cast of characters in their friends and family. Fans of Sweet Cheeks by K. Bromberg and Ruthie Knox will enjoy #Starstruck.

Book Info:

Publication: Published January 16th 2018 | Montlake Romance |
"You've done better."
With one uncharacteristically sassy tweet to her longtime celebrity crush, Zoe Miller's life turns upside down. Ultrahot A-lister Chase Covington doesn't just respond to Zoe's tweet, he does the unthinkable: he messages Zoe directly. Now she must decide between walking away or meeting her crush in person.
Chase knows better than to trust anyone from the Internet, but Zoe's saucy challenge has totally caught his interest—and her girl-next-door personality is keeping it. He's been burned enough to know he needs to keep his heart close. But his feelings for Zoe might be a lot more than just an online flirtation. He just has to convince her…
When the press gets wind of Zoe and Chase's secret relationship, their romance turns into tabloid headlines. Will they be able to hold on to their Hollywood love story?