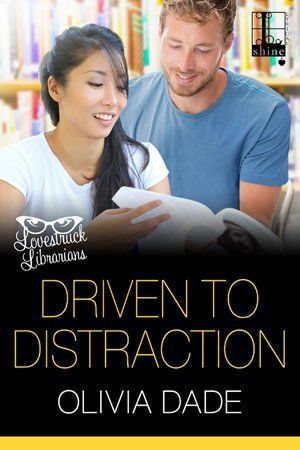 Driven to Distraction by Olivia Dade: Since Sam came to work in the library's IT department in order to become closer to his half-sister, the sparks have been flying high between him and Constance, the bookmobile librarian and one of his sister's best friends. But instead of riding the passion, they fight through the sexual tension with constant arguments.
Until Sam is assigned to work the bookmobile, that is. In the week they work side by side in the van together, they can't help but get to know one another and end the arguments. Now they just have to figure out what kind of relationship they can have while still ignoring the attraction between them.
And even when they do give in, a happily ever after might not be in the cards for them. Not when they want such different futures.
"Sam, I…" The words emerged unbidden from her mouth. "Helen said, um, that she wouldn't mind if you, uh…"
He went very still by her side.
"Dated someone else. No matter who it was."
Oh, God. Did she sound like she was propositioning him? She did, didn't she?
I love the Lovestruck Librarians and Driven to Distraction was a perfect continuation of the series. Sam is adorable and sweet, and honestly the perfect partner. He is so there for Constance in all ways. Constance I really liked as a person and character. She's confident and knows exactly what she wants out of life. However, I do feel she took advantage of Sam, it just didn't fully feel like an equal relationship.
To the very end, it felt like Sam was willing to work around what Sam wanted, all he wanted was her. But she never seemed willing to give him the same consideration. I did love them both, and I loved how they were together, I do just really wish Constance was willing to give a bit more to him – even though I totally understand why their relationship was how it was given Constance's burdensome family.
Dade is an entertaining writer, creating a fun world I love being in. I definitely recommend Driven to Distraction for those who love the sweetheart hero and a woman who knows her own mind. It can be read as a standalone, but give the whole series a try!
Book Info:

January 17, 2017 | Kensington | Lovestruck Librarians #5
IF THE BOOKMOBILE'S ROCKING . . .
Constance Chen is not the demure kind of librarian. Sure, her high-horsepower ride is Big Bertha the Bookmobile, but Con swears a blue streak, does her own home improvement, and wears steel-toed boots. She has a tight circle of friends, a demanding, beloved sprawl of a Chinese-American family, and a strict hookups-only policy when it comes to men. Her life is just how she wants it. Except for one maddeningly sexy footnote.
Sam Wolcott, her friend's baby brother and the library's IT star, has been throwing sparks with Con since he moved to town. To everybody else, he's a thoughtful, sensitive sweetheart. To Con, he's a cantankerous pedant, because if they don't fight nonstop their clothes will spontaneously combust. Sam needs a commitment Con won't—can't—give. And neither of them will chance their hard-won bonds for pure lust.
Too bad Con and Sam have a whole week in a very tiny, very private space to sustain their dumb arguments. Alone. What happens in the Bookmobile might take their resistance right out of circulation . . .