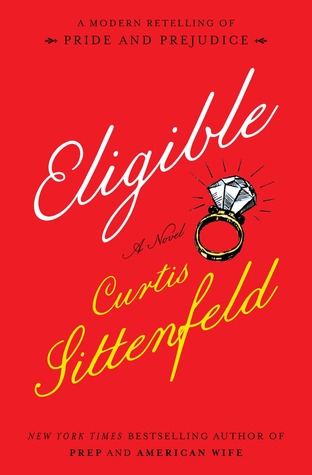 In Eligible: A modern retelling of Pride and Prejudice (The Austen Project #4) by Curtis Sittenfeld, Journalist Elizabeth 'Liz' Bennet has a fulfilling career at a well-known women's magazine in New York City but she's still struggling with her love life even as she gets closer to forty. Her mother loves to remind her and her older sister Jane, a yoga instructor, of this fact at every opportunity. One would think that with her younger sisters Kitty, Lydia and Mary still living at home in Cincinnati–and with no job prospects in sight–her mother would have her hands full enough already. But things become even more chaotic when a family emergency drags Liz and Jane home to help deal with the fallout. That's also when she meets Dr. Fitzwilliam Darcy.
'It wasn't that Liz had changed her mind about Darcy's essentially disagreeable nature; rather, she had concluded that a romp or two in his bed would neither diminish nor exacerbate his disagreeability, especially if she discussed it with no one, even Jane.'
To say that Liz and Darcy get off on the wrong foot would be an understatement. While Jane and Darcy's friend Chip Bingley, an ER doctor whose claim to fame is being on a reality TV show called Eligible, get on famously, Liz finds herself always at odds with reserved and seemingly arrogant Darcy. Over their many encounters she cannot deny that even though they may fight, she has a strong physical attraction to the neurosurgeon. And so long as her heart doesn't become involved, she has no problem giving in to her desires. That is, until Liz determines that what she first thought of Darcy may be quite different than the truth and he may be a man worthy of her time and affection.
"I'm old enough to know that sometimes you don't get a second chance."
"My darling–" Darcy lifted his palm from her arm to her cheek, and she leaned into it; she thought she might weep, and closed her eyes. "I would–I will–give you as many chances as you need. My feelings for you have never changed."
Eligible hit all of the bells and whistles I was hoping for in this retelling of Jane Austen's classic tale, Pride and Prejudice. Completely modern yet still true to the original, author Curtis Sittenfeld kept me entertained with this witty and outrageous story.
'I'm in love with you. I can't stop thinking about you.' Yes, his confession had contained multiple slights, but those words had flanked them. To recall such declarations was pleasingly bothersome, it was vexing and delectable.
As a romance reader, of course I am a fan of Jane Austen's work, with Pride and Prejudice being my favorite. So I was a bit worried going into Eligible wondering how the characters I've grown to love over the years would be brought into the present time. However, I have to hand it to Curtis Sittenfeld. Not only was she able to keep the basic character traits the same while finding modern careers (or lack thereof in Kitty, Lydia and Mary's cases) that fit perfectly, but she also included the major plot points of the original story successfully. Having said that, readers should keep in mind that this *is* a contemporary version so don't be surprised at some of the audacious things Kitty or Lydia discuss or the first time a character swears.
Like I mentioned before, I was thankful that the characters were very similar to the original. I could very well see highly intelligent, slightly cynical Liz being a writer for a women's magazine. And Darcy being cast as a neurosurgeon was actually brilliant. It made complete sense with his standoffish, almost clinical personality. The tension between Liz and Darcy grew in much the same way as it did in the classic, with them becoming fond of each other over time and both of them messing things up in spectacular fashion before it all worked out.
The rest of the family and secondary characters were an absolute hoot, just like they were in the original. Mrs. Bennet was every bit as melodramatic and conniving. Mr. Bennet–one of my favorite characters!–had the same dry, sarcastic wit and wonderful relationship with Liz. It was interesting to see how other key characters were explained and woven in like Katherine de Bourgh, the Bennet sister's cousin (known as Willie, not Mr. Collins), Charlotte, and of course Bingley and his sister Caroline. I liked that they may have been completely different in terms of career or social standing, but the basic traits were still there, shining through.
While I know not everyone is a fan of rewriting history, I thought this updated version of Pride and Prejudice was definitely worth my time. It was great getting to know the modernized version of some of my favorite literary characters. And based on Eligible, I think I'll be checking out the other books in The Austen Project, which are also contemporary versions of other Austen classics written by established authors.
Book Info:

Published April 19th 2016 | by Random House | The Austen Project #4
This version of the Bennet family—and Mr. Darcy—is one that you have and haven't met before: Liz is a magazine writer in her late thirties who, like her yoga instructor older sister, Jane, lives in New York City. When their father has a health scare, they return to their childhood home in Cincinnati to help—and discover that the sprawling Tudor they grew up in is crumbling and the family is in disarray.
Youngest sisters Kitty and Lydia are too busy with their CrossFit workouts and Paleo diets to get jobs. Mary, the middle sister, is earning her third online master's degree and barely leaves her room, except for those mysterious Tuesday-night outings she won't discuss. And Mrs. Bennet has one thing on her mind: how to marry off her daughters, especially as Jane's fortieth birthday fast approaches.
Enter Chip Bingley, a handsome new-in-town doctor who recently appeared on the juggernaut reality TV dating show Eligible. At a Fourth of July barbecue, Chip takes an immediate interest in Jane, but Chip's friend neurosurgeon Fitzwilliam Darcy reveals himself to Liz to be much less charming. . . .
And yet, first impressions can be deceiving.