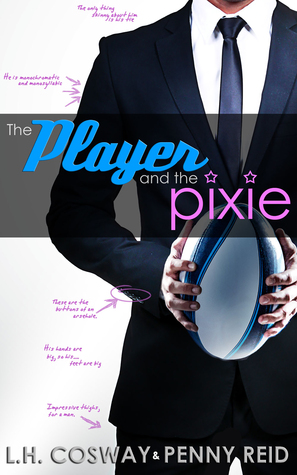 The Player and the Pixie by Penny Reid and L.H.Cosway is the the second book in the Rugby series, a collaborative effort by Penny Reid and L.H.Cosway. It's a rugby themed romantic comedy series, and each book can be read as a standalone. The heroine of this book, Lucy, is the sister of Ronan (hero of book 1). She has an anxiety induced shoplifting problem – one that is witnessed by none other than Sean Cassidy, her brother's nemesis on and off the rugby field. When Sean blackmails her into having dinner with him (because that's the kind of guy he is), it's with the intent of using Lucy to further his little war with Ronan. But Lucy sees something in Sean, a hint of vulnerability – though that first time out, it still ends in disaster. When they meet again, to Lucy's dismay, she finds that she's actually attracted to Sean and they end up in bed together. The problem? Sean is seriously lacking in skills and staying power. Never an issue for Sean with the one night stands who only want to be seen in public with him due to his good looks and rugby reputation, Lucy calls him on it. In an effort to hide his embarrassment, Sean goads her into telling him how he could do better – and when he follows her instructions, the sparks between them light up the covers! Suddenly, there's potential for Sean, both as a lover, and, as they start to see each other more in secret for extra 'lessons', as a real friend. Sean's reputation is well deserved, but comes from an understandable background. Much to Lucy's dismay, the more sweetness he reveals to her (amidst the jerky behaviour that he can't completely abandon) the more she realizes she's in trouble. Her brother won't understand how she could give Sean the time of day, never mind anything more. When Sean's lessons are complete, will she choose family or love?
I really enjoyed this story! I hadn't read the first one (I'll remedy that soon enough!) but I didn't find any issues in starting the series here. It's clear that Sean has a bad reputation right from the start of this story (and no doubt as a secondary character in The Hooker and the Hermit). What we find out is that some of it is deserved, but some of it isn't. He's used to people thinking the worst of him, and he really doesn't care, so he makes no effort to correct those interpretations. Well, until he meets Lucy. Suddenly, he doesn't want to be that guy anymore, the cocky jerk that is a great rugby player but has no friends off the field.
I really liked Sean's character because over the course of the story we learn what makes him tick. He's had a rough childhood, including being raised by relatives who only cared about what success he would have on the rugby field, so he's been under pressure his whole life to perform, yet never given any affection or love in return. With Lucy, he sees the mistakes that he's made, and he wants to be better for her.Unlike the rest of the world, he wants to be more in her eyes. He doesn't completely abandon his snarky attitude but he definitely becomes a more likable man.
Lucy is a hoot! She's a fun and friendly woman, and not afraid to speak her mind. Her relationship with her mother is strained though, the high expectations due to her famous brother giving her a little kleptomania problem – one that results in her meeting Sean. The first scenes with Sean (once she determines that he's not going to turn her in) are hilarious as she won't take any of his crap, including poor bedroom skills. As they get to know each other, she sees that his attitude is a front, a way to not care what others think so as to not get hurt. When she feels that she should be defending him to others she knows she has it bad. She misses him when he's away playing, and she wishes she could find a way for them to be together that wouldn't hurt her brother. Ronan has a strong animosity towards Sean (for good reasons, even though those reasons are partially due to misinformation). Eventually she has to stand up for what she knows is right for her, and that's being with Sean no matter what anyone else's opinion is. But Sean is willing to change for her, and finds his way to a truce with Ronan, proving that he really does love Lucy.
The rugby scenes were well written and gave a good primer to the sport without overwhelming the reader. I enjoyed hearing about the different matches, and the camaraderie and bromances (and rivalries ) of the rugby players in the locker room. There are definitely some great characters worthy of their own stories, and I'm looking forward to where the series will go next. I enjoyed every moment of this story, with its sexy romance, hilarious banter, emotional moments and sporty scenes. 5 stars!

Book Info:

April 12, 2016 | Self Published | Rugby #2
How can someone so smokin' hot be so bad in bed? I mean, Sean Cassidy is absolute rubbish. RUBBISH. He is the epitome of walking, talking false advertising and I want a refund! Plus he's an arsehole. So… what is wrong with me that I can't stop thinking about him?
THE PIXIE
Lucy Fitzpatrick doesn't like rugby.
As the little sister of Ireland's most infamous rugby player, Lucy can't seem to escape the championship-sized shadow cast by her big brother, or her mother's frequent attempts to micromanage her future. Her rainbow hair is as free-spirited as her quest for inner peace, yet overbearing expectations keep bringing her down. And when she's down, her compulsive little problem lands her in seriously big trouble.
THE PLAYER
Sean Cassidy is a cold-hearted brute… or so he's been told. Frequently. By everyone.
His blonde locks, baby blues, and rock hard bod make ladies the world over drool with desire. As the rugby world's second most infamous player, he should be basking in his success. But Sean has never been content settling for second place, and his frequent confrontations with Lucy's big brother leave him cold. And when he's cold, his compulsive little problem lands him in the lap of Lucy Fitzpatrick.
THE PLAN
Sean has a problem only Lucy can solve. Lucy has a problem only Sean can fix. The solution seems obvious: you scratch my back, and I'll bail you out of jail. But when their business arrangement unexpectedly leaves Sean scorching hot and Lucy on the precipice of inner peace, can they convince the world—and Lucy's big brother in particular—that this is the real deal?
Either way, both the Player and the Pixie are about to teach each other some pretty monumental lessons about family, life, but most importantly, love.