English Girl in New York by Scarlet Wilson All alone in New York after quite possibly the worst year one can imagine Carrie McKenzie doesn't know if she can handle one more thing. Then it happens a snow storm that cripples New York happens on her way home. Finally making it home, after stocking up on comfort food and putting on comfort clothes, Carrie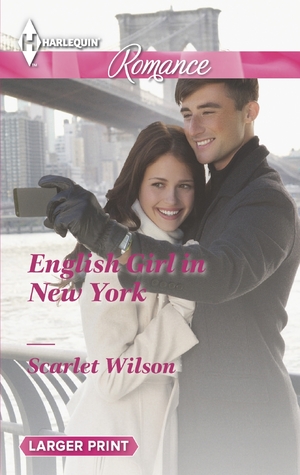 thinks she hears a cat at the door. Opening it she finds something that shocks her and sets her on her heels yet again, there is a baby on the doorstep.
Dan Cooper has his own knife to grind with babies and more importantly with parents, mom's especially, who aren't able to care for their own children. However he has a great heart and is a cop who is trained and has friends to help so when Carrie comes pounding on his door for help with a baby she found on a doorstop he knows he has to keep calm and take control of the situation.
What will happen when these two almost anti baby people are cooped up in the big city for days with a baby? Can they work through their baggage? Can they learn to trust one another with their secrets? Then when the weather finally lets up will they be able to face the real world?
I wasn't sure what to expect with the title of this book, but what I found wasn't it. I found myself wishing I knew more about Dan's past and Carrie's as well. Though overall it was a wonderful story and then ending did make me tear I can't help but think that something was missing. I would definitely pick it up though because even though the romance was secondary the story was top shelf.
Book Info:

Publication: January 7th 2014 by Harlequin Romance (Book 4409)
Rescued on her doorstep;
After an annus horribilis, the glittering lights of Manhattan are irresistible to English girl Carrie McKenzie. She's climbed the Empire State Building, but can't get a smile from her gorgeous neighbor! Until a tiny abandoned baby on her doorstep brings her to his door….
Cop Dan Cooper has an obligation to protect, and with Carrie out of her depth, he must come to her rescue. Surely two pairs of hands are better than one? Until she becomes a distraction, not just because of her tempting curves, but because of the pain in her eyes when she looks at the precious bundle in their charge