In Everything You Need To Know by HelenKay Dimon, Jordan McAdam owns and operates "Need To Know," an up and coming website which rates the rich and powerful bachelors of Washington DC. Members of the site pay a fee, which enables them to ask questions about potential dates and post comments about dates that have already occurred. Members are able to provide advice to each other as well. Every member has been diligently screened in order to ensure the validity of the website. Dating misfortunes are averted by being a "Need To Know" woman. Elle, Jordan's best friend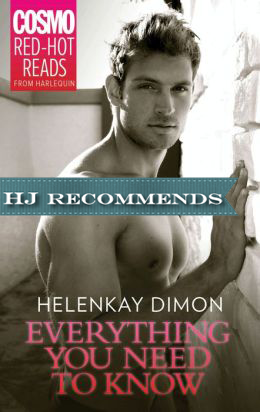 and neighbor, reviews all of the incoming posts, assists with some of the background checks and handles the computer/privacy part of the business. She is also Jordan's sounding board and tries to keep her from worrying about being discovered. Jordan handles the in-person investigations and supplements her income by working as an office temp in the various organizations that the swoon-worthy bachelors occupy. She also crashes weddings, office parties and other social gatherings in order to confirm her members' queries.
Eligible bachelor and successful businessman Forest Redder has never been mentioned on Jordan's website. He is an enigma and Jordan would love to get the goods on him, since his name pops up in the newspapers from time to time and he is hot. Jordan meets him while temping for Ryan Peterson, a bachelor she is checking out, due to recent postings about his indecent dating rituals. Not only does Ryan talk about himself in the third person, he is a pompous ignoramus. He is also running his father's construction company into the ground. Due to Ryan's poor financial status, Forest, along with his business associate Wen Strong, are meeting with him personally, to let him know that they will not be partnering with his company on the future waterfront project. Without the project, Ryan is ruined. Over time, Ryan seeks revenge by citing the negative postings on the "Need To Know" website as the main reason for Redder Investments withdrawing from the project.
Jordan is constantly worried about becoming her mother when it comes to being in a relationship. Her mother carved out a career of dating and marrying rich, seven times to be exact. Jordan never wants to be dependent on a man for her security and happiness. That is why the success of her website is so crucial, it guarantees her happiness.
There is an immediate attraction between Jordan and Forest. A week or so later, they meet again at a wedding that Jordan is crashing. Forest is suspicious of her actions, especially when he realizes that she knows no one at the wedding. They share a dance and the sparks ignite once again. Another week goes by and Jordan reluctantly finds herself working as Wen's assistant. The temp agency gave her no choice, either work for Redder Investments or find a new job.
Jordan is angry and Forest is pleased. After a heated discussion and a heavy make-out session in Forest's office, Jordan begins to realize that Forest is a really good guy. The reason he is non-existent from her website is because he is caring, charming and almost perfect. Forest is obsessed with Jordan and he is falling for her, however his suspicions continue to increase when some of Jordan's comments are identical to those posted on the "Need To Know" website. Forest became aware and fascinated with the website when Ryan began his tirades.
Jordan and Forest spend some mind-blowing evenings with each other. They are both experiencing true love for the very first time. Once Forest finally puts all the pieces together, he begins draining Jordan's defenses. He wants her to tell him the truth about the website. When Jordan finally lets Forest into her life completely, his big office chair becomes the catalyst of enduring passion.
This is a well written novella that I truly enjoyed. The story flows at a nice pace and the characters are refreshing, heartfelt and real. It is an engaging short story that keeps you cheering for the couple's ultimate happiness.
Book Info

Publisher: Cosmo Red Hot Reads from Harlequin (October 15, 2013)
From the award winning author of romance and romantic suspense, HelenKay Dimon comes a sizzling new story from Cosmo Red-Hot Reads from Harlequin.
Jordan McAdam rates men on her anonymous Need To Know website. Everything from the quickness with which they pick up a dinner check, to their playbook for getting a woman naked. Enter Forest Redder. He's convinced Jordan burned his friend so he flirts with her, intending to learn the truth. But Jordan plans to date Forest to gather the dirt on him! Oh, how the best laid plans can be ruined by sex…and love.