In Real (Real#1) by Katy Evans, Brooke Dumas knows what it feels like to have her dreams destroyed. She lost her chance not just once, but twice to be a part of the Olympics when she was injured during sprinting tryouts. It took her a while to move past the pain, both physical and emotional, but she has started a new career in sports rehab…if she could just find a job. Brooke lets her best friend Melanie talk her into going to an underground fighting match where she lays eyes on the sexiest man she has ever seen in her life. Remington "Riptide" Tate is all arrogance,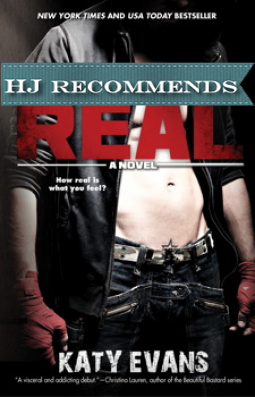 all athlete, all male. And his intense blue eyes are staring directly at her from inside the ring. She is overwhelmed with the feelings that sweep over her so she excuses herself to get some air. Brooke hears a commotion behind her and realizes Remington has won the match and is now following her. His velvet voice forces her to give him her name, while Melanie yells out Brooke's phone number, and before she realizes what is happening, he gives her a kiss.
'His eyes are hot and almost proprietary when he looks at me. I've never been stared at like this before. He steps forward, his damp hand slides to the nape of my neck. My pulse skitters as he lowers his dark head to set a small, dry kiss on my lips. It feels like he's marking me. Like he's preparing me for something monumental that could both change and ruin my life.'
Brooke isn't able to think of anything other than Remy after that. She's not sure what to expect when one of his assistants shows up with tickets for her and her friends plus a backstage pass for Brooke to his next fight. He even wrote her name on the pass himself! She's a bundle of nerves until Remy enters the ring and his eyes connect with hers again. Her group is invited up to his suite after he wins the match and so with her heart set on having a one night stand, she makes her way there. But instead of inviting her into his room for a fling, Remy offers her a job. As his sports rehab specialist. For three months. Just the thought of being able to help stretch those sinewy muscles and touch the man's body on a daily basis does crazy things to Brooke's head and girly parts. Even though it will be sensory overload, she takes a chance and accepts the job.
'He's my beast. My dark and my light. Mine'
Brooke fits in well with the rest of his team but isn't sure what to make of Remy. He's so intense, barely speaking to anyone, but he conveys so much emotion with his eyes. They begin to bond on the flight to Atlanta when he pulls up songs on his ipod for her to listen to. It's almost as if he's trying to communicate with her through the lyrics he's chosen. This push and pull between them continues during his training sessions and also when they go back to their hotel rooms each night. Brooke gets more and more frustrated until Remy finally gives in and kisses her again. From there on out, the emotions run high which ends up triggering something in him, sending him into an episode that both scares and awes Brooke. She doesn't leave Remy's side during his ordeal and they spend long nights just kissing and holding each other close. An old nemesis of his starts to instigate trouble between them, pushing his buttons until both he and Brooke are at their breaking points. They both make decisions without communicating their intentions to each other. Unfortunately, the aftermath might prove to be too much for the fledgling relationship to handle.
'She tells me every night I'm her real. She's my real. She's my only.'
Be ready for a roller coaster ride of emotions and sexual frustration when you read this debut novel by Katy Evans. Honestly there were moments when I both equally loved and hated this story but either way I couldn't put it down. It made me want to sigh, laugh, yell and cry in equal measures, but I am very glad I did finish reading it. Katy did an awesome job describing the intensity of Brooke's feelings. So much so that you can almost feel her emotions as you read. The love scenes are uber hot and raunchy but still held a sense of intimacy, which was great. My favorite part of all was the way Remy connected to the world, and especially to Brooke, through music. It was powerful and beautiful the way he could hand her his ipod with a specific song that conveyed his feelings for her and that she could reciprocate in kind. Don't be put off by the mixed reactions of reviewers online…take the leap and check out this sexy new adult romance.
Book Info

Release date: September 3, 2013 | Series: The REAL series
HOT. SEXY. POWERFUL. PAINFUL. REAL. The scorching international bestseller that strips away everything you've ever believed about passion . . . . 
Remington Tate has a bad-boy rep in and out of the ring, a granite-hard body, and a raw, animal power that sends his female fans into a frenzy. But from the moment their eyes lock, the only woman he wants is Brooke Dumas. His desire is pure, all-consuming, and REAL.
Hired to keep his perfect body working like a machine, Brooke finally has the lucrative sports therapy job she's been dreaming of. But as she tours the dangerous underground fighting circuit with Remy and his team, Brooke's own body becomes alive with the most primal of hungers. If what happens between Brooke and Remy is ever as light as a flirtation, it quickly becomes an erotic obsession for them both, and promises so much more.
But their white-hot lust has a dark side—and when Remy's deepest secret comes to light and Brooke's familial duties demand action, will the pair be able to hang on, or will everything that once seemed so real suddenly fade away like an illusion?