In Falling Hard (Falling for the Freemans #2) by Kate Hewitt, Quinn Freeman's hometown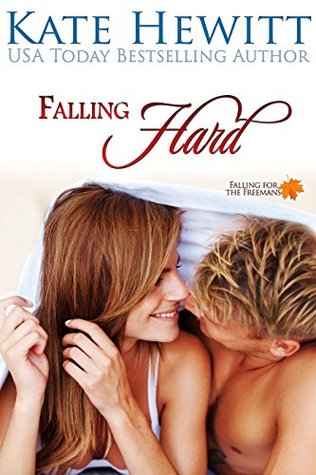 holds a lot of bad memories for him and his family. Memories he's suppressed for so long because the past is to painful. No one in Creighton Falls ever thought any of his family would return, but when Quinn's mother thinks about selling the family hotel that's been vacated for years; she puts Quinn in charge of overseeing any repairs needed. He knows spending time in the town will be difficult, but just maybe Meghan O'Reilly — the pretty town plumber – could convince him that Creighton Falls is where he belongs.
"Just because my family has money doesn't mean everything is easy."
"I never said it was," Meghan answered as she reached for a paper plate.
"Everyone here seems to think I can snap my fingers and make things happen."
"Maybe because that's how it used to be."
Although I haven't read the first book of this series, I found this story could be read as a stand-alone. This highly emotional, fast-paced story was riveting and encompasses a heroine that needs a little time away from her responsibilities as well as a hero needing to remember the past if he's to ever help his family move forward; instead, of all of them being prisoners to the past and continuing to treat each other so horribly.
As for the dialogue, it definitely illustrates the kind and caring nature of people in a small town. How everyone knows everyone's business, or wants to know someone's business. Quinn had to adjust, but it helped him learn things about his past. There was some playful banter between Meghan and Quinn that had me smiling. Yet, there was also some intense dialogue due to the main characters back stories, especially the hero's. Because it seemed his family blames him for the dysfunction they've become in the years since his father died in an accident.
"So the last time I saw you," he said slowly, "you seemed pretty pissed off."
"Did I?" she said as lightly as she could. "Maybe that's because you propositioned me."
"And that offended you?"
No. "I'd like to be offered more than a hour."
His lips quirked. "But that's all the time you had."
I really liked both characters, as well as the secondary characters. Quinn's description of the town busybody so fit. The hero has been a free spirit for so long. He found it better being away from his family than having to deal with the fact that every time they're together, they tend to argue. So, being in Creighton Falls is good for him. It helps him to deal with the past, and provide him with the answers he needs. What I liked most about Quinn was that he faced his demons, and the moment when his memories begin to come back made me feel sorry for him. What happened to his father was an accident, and blaming it on him when he was only young at the time the accident occurred was wrong.
While Meghan, she's hard-working, responsible, and would do anything for her sister. She takes on a lot, even helping Quinn to deal with his past, which also illustrates loud and clear how altruistic she is. Quinn needs someone like Meghan to help him realize that his past is holding him hostage, and help him see that is wasn't his fault. Make him realize that accidents happen and that he can't keep blaming himself. Really, these two were good for each other. Because Quinn proved he was different to everyone else that Meghan has ever relied on. He didn't leave her, even when he didn't know if happy ever after was for him.
Hot sex scenes heated up the story and illustrate the strong chemistry this pair has from the moment they meet. At first, Meghan was reluctant to get involved with Quinn, as she thought he was the love 'em and leave 'em type of guy, and she didn't think she could handle getting involved with another man if they couldn't accept that she and her sister were a package deal. Since there was no way she would leave her sister to fend herself. The young woman needed a carer, especially with friends like hers that kept using her for their own entertainment, which was just cruel.
Overall, Ms. Hewitt has penned a really good read with this book, and I can't wait to read more of this series to learn whether the Freemans ever again become the loving family they once where before they lost the head man of the house (the loving father that held the family together). The ending wrapped this story up nicely with how the town welcomed Quinn as a permanent resident, and then the hero admitting that he was willing to fight for the future of the hotel. That he wasn't willing to allow his brother to shut down his plans anymore. I would recommend Falling Hard by Kate Hewitt, if you enjoy a couple that need each other to heal from the pains of their pasts.
Book Info:

Publication: March 10th, 2016 | Tule Publishing | Falling for the Freemans #2
He didn't want complications. She was looking for a miracle.
Quinn Freeman has spent his life avoiding the dangers of commitment, but his reluctant return to his home town that's in tragedy for his family stirs up memories and emotions he'd intended to leave buried. His arrival lights hope in many hearts including one long dormant.
Meghan O'Reilly, the town's only plumber and solo caretaker of her dependent sister, is weighted down with responsibility. She only sees in Quinn a careless charmer who isn't used to hard work—but she still can't keep from imagining his kiss… and longing for his touch.
Surely some things, like a fling between them, can be simple… Or is it possible for a fling to become forever?