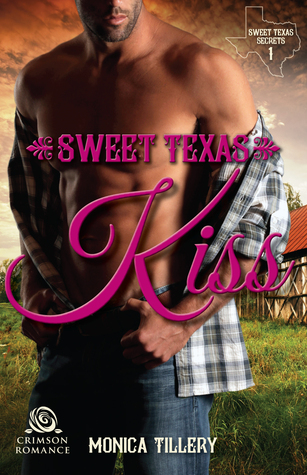 In Sweet Texas Kiss (Sweet Texas Secrets #1) by Monica Tillery, Gavin Cooper and his brothers are shocked to learn they're not getting everything they were promised by their dad when they hear the reading of their old man's will. What's worse, the house that Gavin has been living in has – for some reason – been left to his old high school arch nemesis, Macy Young; which makes no sense at all. Especially to Gavin, until he begins to realize that his Dad might have done the right thing after all when he starts to see Macy in a whole new light other than his long-time enemy.
"We'll open a bottle of red, have some dinner, and figure everything out. It's really the only solution."
"You're trespassing. I'll call the cops."She put her hands on her hips, hating the uncertainty in her tone.
"You will? Be my guest." He edged around her to reach the pantry and emerged with a couple of potatoes. "Would you mind getting these in the oven before you call Sweet Ridge's finest?"
Macy Young has lost so much since her best friend died. She hasn't been able to sing, which may be putting her music career in jeopardy, if she doesn't manage to find her voice soon. The only things she has going for her is being a judge on a music show, and a house she's inherited. Returning to her hometown might just be the inspiration she needs to get her life back on track, if only Gavin Cooper will give her a chance.
The enemies to lovers trope always make for a good read, and this book was fantastic. The news that the Cooper men aren't receiving what they were promised sets the fast-pace of this story, and once Gavin comes face-to-face with Macy again is when things start to become interesting. There's so much animosity between them, as Gavin blames Macy for cheating him out of the position he wanted in high school, then believing her responsible for the death of someone they both loved, and now her receiving the house that was meant to be his.
The dialogue was intense due to the main characters back stories. The hero's animosity comes through loud and clear in the dialogue, yet there's a part of him that remembers how much of a crush he had on Macy in the past. So the more I read, the more I found myself entertained by the answers to the following questions that kept arising for me. Is there room for forgiveness in Gavin's life, especially when Macy is grieving for their mutual friend just as much as he is, and he doesn't know the full story of what really happened the night that their friend died? Can Macy begin to forgive herself for the lose of their friend? Can she find a way to get her singing career back on track?
"Oh, he was proud of you, and he wanted you to succeed. He just knew it wasn't healthy for a good-looking kid from a wealthy family to have things easier than you already did. He knew you needed a challenge. He came in the night after Mr. Procter told me about the competition that gave me a chance to become valedictorian, and we talked about it then. Jack encouraged me to go for it."
I really liked both characters, and the history this couple have between them was what I liked so much about this book. Macy has lost her way, and yet, Gavin and her hometown seem to bring back the spark she once had. Really, the hero isn't only good for Macy but she's good for him as well. Helping her to realize what she wants for her future after what happens to her former high school music teacher. While Gavin, he's hard-working and once he learns the truth about his best friend and her death, he becomes kind, caring and tenacious to show Macy that she can have the best of both worlds – a future with him and the chance to sing again, if she's willing to take a chance. His hostility was understandable at first because it seems Macy keeps taking things he wants away from him, but that made for interesting reading, because he had to work hard to show Macy that there could be something great between them. If only she let herself believe that she deserved to be happy.
Then there are the secondary characters in Gavin's brothers, Gage and Grayson, two men that I liked just as much as Gavin. The three are so close after losing their dad, and the way the pair convince Gavin to pursue Macy was one of the best moments. Because soon after, Gavin showed Macy how good they could be together through a well-written sex scene that reveals how much the hero wants her in his life.
Overall, I really enjoyed this book and I'm looking forward to reading the two books that follow this one because it seems like their father was playing matchmaker for his three sons. I really liked how this ended with Macy revealing her plans for her future with Gavin, and finally getting the chance to say goodbye to Gavin's dad. She owed the man so much for changing her life for the better. I would recommend Sweet Texas Kiss, if you enjoy the enemies to lovers trope.
Book Info:

 April 4th, 2016 | Crimson Romance | Sweet Texas Secrets #1
Small town. Big secrets. Welcome to Sweet Ridge.
The Cooper brothers receive the shock of their lives when their deceased father, owner of the lucrative Guac Ole company, wills away their inheritances to three random women.
No one's more surprised when Jack Cooper leaves the family estate to music superstar Macy Young than his oldest son. Seeing his childhood memories being handed over to his high school rival – the first woman to break his heart – stings, especially when Gavin is left only a pair of old reading glasses and a cryptic note. Luckily, Macy can't sell the house for one year – plenty of time for Gavin to find a way to get it back.
Living in the harsh spotlight of country music fame has cost Macy, and a little hometown peace and quiet just might heal her soul. But giving up and giving back Gavin's greatest prize may not be the tune she plans to sing.
Can a country star and a country veterinarian find a way to bury their animosity and rediscover their first love in the process?