In Fighting to Dream (The Elite #2) by Nicole Flockton, Tamara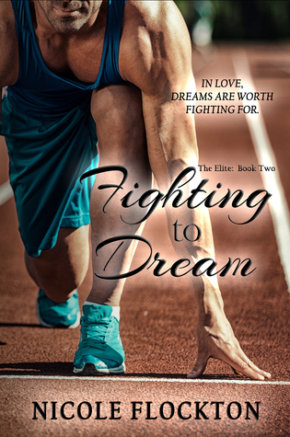 York is determined to let nothing and no-one cause her to lose her dream job working with athletes to make sure they're in peak condition for their Olympic events. So, when she witnesses Drake Roberts struggling and trying to hiding the fact that he hasn't quite recovered from an injury he suffered, she knows helping him could lead to trouble. Yet, against her better judgment, she helps him anyway. Who knew helping the gorgeous athlete could lead to the love of a lifetime?
"I'll be fine. Winning would be great, but I'm realistic enough to believe that, unlike others on the team, my chances are slim."
"The Games are a fickle bitch; anything can happen," commented Len. "An opponent can eat something that doesn't agree with them. Or they trip. Or they pull a muscle. You have to be present and ready for anything and, the most important thing, take advantage of anything that happens. Own the race. Make it yours."
Any books involving athletes competing at the Olympics is always going to interest me. Because the event hosted once every four years is a chance to witness or read – as in this instance — about the best of the best competing and discovering which countries win what medals. The way this book began with the hero doing his best to make everyone believe that he's ready to compete had me feeling sorry for him. Is he able to hide his injury from those that know him? Why is he doing his best to hide his injury?
I loved both the main characters, as well as the secondary ones. The way Drake's team members, especially Mitch and his girlfriend support each other showed how close of a team they are. As for Tamara, she is hard-working, confident in her ability to do her job and I liked that she was willing to push Drake to get him into tip-top shape, so he could compete without anything bothering him. Her determination to help him is definitely illustrated in the dialogue between them, which had me smiling any time they conversed. Since Drake did his best to charm Tamara and she didn't easily fall for it because of the dilemma she faced. If she gave him a chance, could it be the end of her career? Trainers aren't supposed to get involved with the athletes they're helping.
"I thought she was supposed to help me, not torture me."
"Who? And I thought you liked it rough," Mitch said.
Drake didn't have the energy to do anything but flip the bird at Mitch. "Tamara York. She's a masochist."
"The team trainer? The same one who you raved over, after you first hurt your knee, about how wonderful her hands were? Dude, you need to work on your bedside manner if she's gone from being fabulous to psycho."
While Drake, he has some tough decisions to make. Will this be his last Olympics? Will he finally make his dad proud of him if he does win? Will he give Tamara a chance to help him? Drake was a really compelling hero, and I couldn't help but be drawn in by his back story. He's strong, brave and I liked how determined he is to overcome his injury and prove to everyone that he has what it takes to compete against the best in the world. And even though, it seems he took to athletics for all the wrong reasons, I liked how everything worked out for him in the end. No way could he let down those that had done so much for him over the years.
Overall, Ms. Flockton has penned a wonderful second novel in her Elite series where the romance was strong and illustrated that love can overcome even the toughest of obstacles such as a heroine's reluctance to get involved due to the complications it could cause with her job. The way this story ended was perfect, as Drake deserved every bit of happiness he achieved in both his personal or professional life. I would recommend Fighting to Dream by Nicole Flockton, if you enjoy sports romance or the forbidden romance trope.
Book Info:

Publication: September 26th, 2016 | Self-Published | The Elite #2
At the 2016 Rio Games, Olympic runner Drake Roberts is chasing a dream, a dream that isn't his. For as long as he can remember it has been his father's dream for him to be an Olympic gold medalist. Now an injury could rip away everything he's worked so hard for.
Tamara York has her dream job. She's part of the team that keeps the Olympic track and field athletes in peak condition. With plenty of growth potential, no one is going to deviate her from her goals, until she sees Drake hiding his injury. Now she has to help Drake to a full recovery while resisting his charms.
Can time spent together help them realize that love as well as dreams are worth fighting for?