In Full Throttle (Black Knights Inc. #7) by Julie Ann Walker, Abby is the president's daughter. She sometimes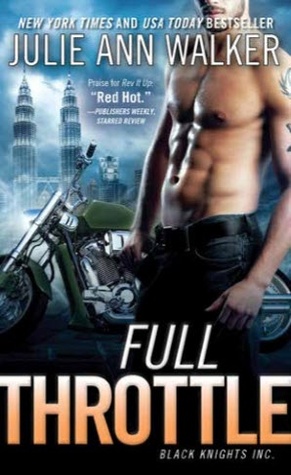 craves a 'normal' life, not having to be surrounded by security, but she accepts what is her life. Abby carries a lot of guilt about a tragedy from years ago when her friend and mentor Rosa died, blaming herself and pushing away Rosa's brother Carlos in a misguided attempt to protect him.
Carlos has never forgotten Abby, or the feelings she stirs in him. When a kidnapping plot is discovered and one of the president's daughter appears to be the target, Carlos and the covert operations team he works with is brought in to protect Abby. In a place far from home, where Abby is for a work event, the unimaginable happens. With help far away, Carlos is determined nothing will stop him from rescuing Abby. And against all odds, Carlos finds Abby…but that is not the end of it. In a race against time and danger, Abby and Carlos find that neither of them has ever gotten over the other. Misunderstanding and secrets have to take a back seat to survival, but even the past can't be out run. Will Abby be safe? Will she ever feel safe enough to free herself from the past for a second chance with Carlos?
Full Throttle is the perfect name for the seventh book in the Black Knight Incs. series. Julie starts the book with a bang and goes full throttle from there. The main characters are both strong, and actually complement each other very well. Carlos is strong, protective, and caring. I loved him! He would do anything for Abby. Abby is smart and as independent as she can be in her life circumstance. She tries to protect others from the dangers that come with her life, but this misguided sense of responsibility was at times overwhelming, and drew out through Full Throttle, in particular with regards to her previous relationship with Carlos. At the same time this is an integral part of the plot surrounding Abby and Carlos and the distance between them over the years. I did like how Abby doesn't try to be the hero when there is trouble…she actually listens to the people trying to protect her. This is a very refreshing and likable characteristic in a heroine for me!
Julie Ann Walker gives a great background on Abby and Carlos so that I really felt I knew how things were in the past with them, and it made the feelings that still existed between them easy to believe and realistic.
Julie Ann writes with great detail to the setting, and picturing Abby and Carlos in the jungle country is easy. I really liked the change of setting from previous Black Knights Inc. books. It really makes Full Throttle stand out and easy to read as a stand alone. There are various secondary characters, some new, some you will recognize from previous BKI books. They all fit well with the plot and make sense to the story.
There is a strong sub plot in Full Throttle that makes it about more than the relationship between Abby and Carlos, giving Full Throttle dimension and a real edgy feel that kept me guessing! Julie Ann Walker gives us a great mix of everything romantic suspense needs…action, conflict, suspense, danger, and great chemistry between the main characters.
Full Throttle is fast paced and easy to lose yourself in. I'd recommend Full Throttle to any romantic suspense reader.
Book Info:

Published December 2nd 2014 by Sourcebooks Casablanca |  (Black Knights Inc. #7)
She Needs a Hero…
Abby Thompson didn't sign up to be the daughter of the President of the United States. The position was forced on her by the small matter of her birth. Preferring a quiet life of study, she's content to leave the politics and the international intrigue to her father. Unfortunately, the most powerful man on the planet is sure to make enemies. When a group of armed thugs takes her hostage half a world away, demanding the U.S. government release prisoners in exchange for her safe return, she fears her father's policy of "not negotiating with terrorists" means she'll never see the shores of the Potomac again. Luckily, there's one glimmer of hope. His name is Carlos Soto. And though she abruptly ended things with him years ago, she knows now he's the only man who can save her…
Black Knights, Inc. to the Rescue…
Carlos "Steady" Soto has taken part in his fair share of dangerous missions working at the covert government defense firm of Black Knights Inc. But nothing prepared him for the emotional rollercoaster he faces when he's tasked with rescuing the only woman he ever loved—who also broke his heart. Racing against time and outmaneuvering a group of trained terrorists will take everything he's got. Plus there's the heat simmering between them which is threatening to ignite into an inferno. While ruthless enemies stalk them, they must learn to trust each other again. Even if they do make it out alive, will Abby turn her back on him…for the second time?