Pretending with the Playboy by Tracey Livesay, is an engagement of convenience story with a sad but refreshing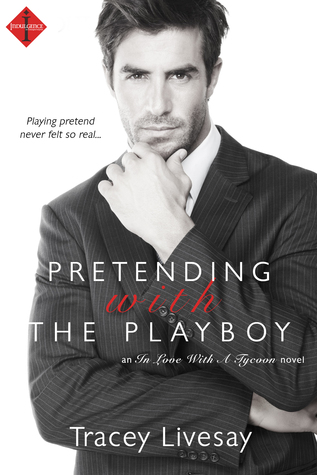 twist. This is the second book from her "In Love with a Tycoon" series, and I really enjoyed it. I read the the first book as well and it was equally as good. In fact, a couple of the characters from the first book were brought into this story and it was nice hearing from them again. This novel can be read as a standalone.
In this story, both the heroine and hero were raised in luxury by Dorothy Richardson, CEO of RichCorp, a very successful privately held company. Presently, Dorothy's nephew Carter, is the CLO of Pearson Enterprises located in Washington, DC. Carter has no desire to move back to his hometown of Chicago and take over the reigns from his dying aunt. Carter may not like it but RichCorp is his family's legacy and it has always been managed by a Richardson. Carter does not want to give up his fabulous job, friends, and playboy lifestyle. However, he loves his aunt dearly and succeeding her, as well as finding the right woman, will help her rest easily. This is where Lauren Olsen comes into play.
Lauren's mother used to work for Dorothy and when she died, Dorothy took her in. With Dorothy's emotional and financial support, Lauren blossomed into a beautiful woman and obtained her PhD in art history. She also works part-time as Dorothy's social secretary. Needless to say, Lauren is like a daughter to Dorothy and Lauren will do whatever she can to ease Dorothy's stress and pain, which includes bringing Carter home to takeover RichCorp. Lauren and Carter shared an amazing kiss years ago, which they both have never forgotten. Pretending to be engaged is one of many things Lauren and Carter do to Dorothy's happiness and peace of mind. In the process, they fall in love while struggling with their own identities and hopes and dreams of the future.
Pretending with the Playboy by Tracey Livesay is a slightly emotional novel with an eclectic cast of characters. Although I found the pace to be a bit on the slow-side, it is a good story. Lauren and Carter are extremely likeable, have great chemistry and are easy to identify with. I liked the way the Ms. Livesay developed their relationship by turning their combative tendencies into hot caresses, which resulted in passionate and hot sex scenes.
Book Info:

Publication: December 29th 2014 by Entangled: Indulgence
Commitment makes you weak. It's playboy Carter Richardson's motto. The only exception to the rule is his aunt, and when Carter learns she's terminally ill, he rushes to her bedside. Filled with fear and guilt—and desperate to ease his aunt's mind—Carter does the only thing a guy could do…he panics and blurts out that he's engaged to his aunt's enticing protegée. Lauren Olsen has already had her heart crushed once by Carter. Against her better judgment, she agrees to keep up appearances—until Carter makes their "engagement" public in order to protect the family business. Now Lauren's torn between obeying her conscience, and obeying her desire. Because while she could never trust the womanizing Carter she once knew, she seems to be falling for the man beneath the playboy…