Getting It Back (Red Hot Russians, #3) by Elizabeth Harmon: Rarely does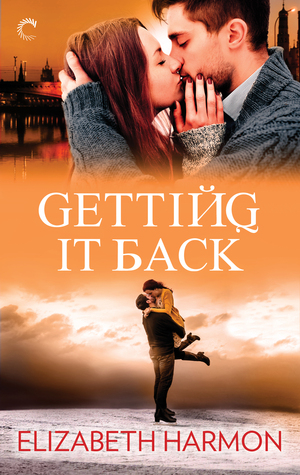 a book come along that will hook me from the first page and keep me hanging on ever single word. That is exactly what Elizabeth Harmon in this amazing story. I was not even through the first chapter and I found myself unexplainable, connected with these wonderful characters. This is the third book in the Red Hot Russians, and while I have read the other books in this series, each book is a perfect stand alone, never leaving the reader confused. This is the story of Amy and Misha.
Amy Shepard is a sports therapy trainer, who lost her heart the minute she started working the Mikhail "Misha" Zaikov after an accident on the ice that claimed his skating career. Twenty-two months previous, Misha left Amy to pursue a career as a skating coach, sending her a text message on her graduation day, telling her that he was leaving. Never did she expect to hear from the man that broke her heart. Never did she expect that hearing from him again would give her the chance to recapture her lost dream of working with and training the elite figure skaters in the sport.
Misha Zaikov feels like he has something to prove to himself, to the world, and to Amy. After he left Amy, his life has drifted, he has been unable to make something of his life or to find the same meaning or passion for anything, not like he felt when he skated. When an opportunity is presented for Misha to try to reclaim former glory and possible compete again in the Olympics, he is ready to jump at the chance, but only if the woman that he loves, the woman that he wants and needs in his life is willing to stand by him, join him on this journey.
What I loved about this particular story is that is did not take place years and years down the road. There was only twenty-two months between when Misha and Amy parted ways and when they reunited. It broke my heart to see what Misha has become, it broke Amy's heart as well. I love that Misha opened up to Amy about why he left, feeling that he had nothing to offer her, no prospects and that he felt that he was not good enough for her if he could not offer her the world.
I love how despite how afraid that Amy was for Misha and the very real possibility that he could re-injure himself, she not only stood by him, she supported his decisions and did everything in her power to show him that he always came first in her life and that she loved him. I love how in the end, Misha showed Amy with his actions that nothing was more important that her and the life that he wanted them to share, not even skating.
This is a story about recapturing lost dreams, recapturing lost love, about forgiving and being forgiven. If you enjoy a true fairytale HEA set in the beautiful and graceful world of figure skating than you will really enjoy this story. It was truly magical.
Book Info:

Published: April 4th 2016 | Carina Press | Red Hot Russians, #3
In this second-chance romance, a former top men's figure skating champion is willing to risk everything for a comeback–except a new start with his long lost love.
An unexpected phone call from the man who broke her heart offers Amy Shepherd an opportunity to return to the work she loves, training elite figure skaters. Except it's just one figure skater: Him. Can she finally forgive and forget?
Figure skater Mikhail "Misha" Zaikov once had it all: medals, money and the adoration of millions. But a devastating injury put an end to his career and his romance, leaving him with nothing but regret over what could have been. His last chance to re-join the world's top skaters is now. And there's only one person who can help him: Her.
On Russia's unyielding ice, Misha must reclaim what he's lost while facing off against a talented young rival and risking further injury. But Amy soon discovers Misha's much bigger challenges lurk off the ice. And she's determined to keep Misha whole and healthy, even if doing so ends his shot at the gold.