Glimmer by Beth Kery: Alice grew up on the wrong side of the tracks in a hopeless area in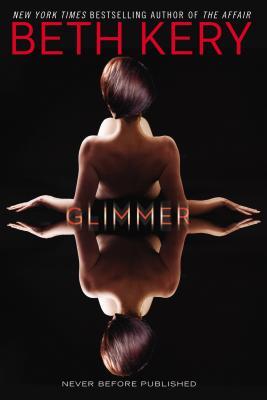 Chicago. She's pretty much raised herself and used her intelligence and tenacity to get a graduate degree. She's beyond surprised to hear that she has an interview for a prestigious management training experience with Durand Enterprises. Dylan is the young, charismatic, and sexy CEO of Durand. Alice is shocked to learn that Dylan himself would be conducting her interview.
Dylan throws her off her game and brings out her prickly and distrustful side. No one is more shocked than Alice to learn that she was one of the few selected to be a counselor at Camp Durand.
"Are you a savant?"
"No," she denied tensely. The word savant labeled her as a freak. All she wanted was to go unnoticed. Freaks didn't blend in. "I just have a decent feel for numbers and what they mean."
Upon her arrival at Camp Durand, she feels very much out of place. She begins to have unsettling experiences and unwittingly runs right into Dylan's arms. Both feel the undeniable attraction. She knows that any relationship with Dylan would be inappropriate, but Dylan is the only person who calms her and makes her feel safe while at the camp. She's exceeding in her role as a counselor, despite her fears of failure, during the day and living for the nights in Dylan's arms.
"This is the real you, Alice."
She blinked. "If this is the real me, then why do I feel like such a fake?" she asked him. His smile was a sexual caress.
"Maybe the real you is a lot bigger than you thought. You just need time, to familiarize yourself with all the parts." His head dipped. Her breath hitched. "To discover all the mysteries," he added quietly.
Glimmer is an enthralling, can't-put-it-down, sexy, suspense. Beth Kery pulls you in while hinting that at a much deeper story in Dylan's past. Ms. Kery provides rich, complicated characters with an intriguing plot. Fans of Meredith Wild, J. Kenner, and Lauren Smith will enjoy Glimmer.
Book Info:

Publication: Published May 5th 2015 | Berkley | Glimmer and Glow #1
From the New York Times bestselling author of Because You Are Mine, a scorching new novel about forbidden desire…
After graduating from her M.B.A. program, Alice Reed is surprised when she's recruited for the management training experience at legendary Camp Durand, owned by Durand Inc.'s young, billionaire CEO, Dylan Fall. The company usually recruits from Ivy League schools, not insignificant colleges like Alice's.
Alice enthusiastically accepts, but she still wonders why Dylan would choose a girl from the wrong side of the tracks for the prestigious program. But after a passionate encounter one night, she discovers exactly why—Dylan wants her, and Alice can hardly resist his fierce sexual appetites, though she is amazed that she could appeal to an experienced, sophisticated man like Dylan.
As Dylan introduces her to thrilling, erotic territory, Alice discovers a delicious new part of herself. Night after night, she steals away to find ecstasy and escape in Dylan's arms. But behind her lover's powerfully magnetic facade, Alice senses darkness, secrets from Dylan's past lurking in his beautiful, lonely mansion—secrets that are starting to haunt Alice. And the ghosts of the truth might tear Dylan and Alice apart forever . . .