In Going Down Fast (Billionaire Bad Boys #2) by Carly Phillips,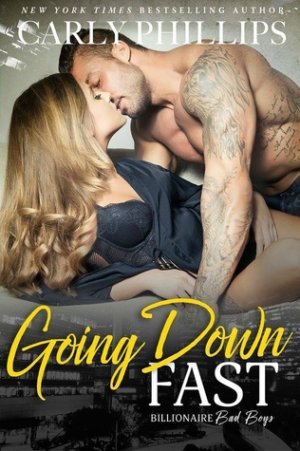 Lucas Monroe could never have dreamed of the success he'd achieve some day back when he was a computer nerd being bullied at school and by his brother at home. But these days he's a billionaire at the top of the tech world, working with his two best friends. What would make Lucas' life complete would be to finally admit his feelings for his longtime friend Maxie Sullivan. But the timing is never right. So when she comes to him for help, he steps right in and at the same time puts a plan into motion to show her how much he cares for her and that she can trust in him. Forever.
"I want you, Lucas. I always have. I decided it's our time."
He couldn't argue with that logic. Instead he acted. He lifted her into his arms and headed for his bedroom, aware he was one step closer to his ultimate dream.
Maxie's life has been a complete disaster for so long she doesn't know where to turn next. Well, that's not true. She knows she can count on Lucas to be there by her side but she's secretly always wanted more from him than friendship. Her complicated situation is something she doesn't want to burden him with but she knows it's her best option. So as Maxie sorts out her life and tries to attain some independence, she also realizes the time may finally be right to let Lucas know how she feels. Scary as it might seem, she thinks it could be the best thing for both of them to finally see where their intense attraction takes them.
"Didn't I say I wanted to be in charge of my own life?"
He grinned. The one that showed all those white teeth and was impossible to resist. "You are most definitely in charge of your own life. It's just that I'm in charge in the bedroom. Did I forget to mention that during our negotiation?"
Going Down Fast started right off in the midst of a bunch of drama and it never let up. Between the family issues, unrequited love, and even an emotionally devastating loss, there was a lot to keep a reader's interest piqued in this book.
'He should be off-limits but her body wasn't listening. From the often heated, slumberous look in his eyes when he looked at her, she knew he felt the same way.
Together they were smoldering embers waiting to be set aflame.'
I feel like I'm always fangirling when I review one of Carly Phillip's books because they're all so good! And I know I probably say this about the hero every time, but Lucas was seriously one of the best heroes she's created so far. Not that there was anything wrong with Kade from book one. Far from it. He was every bit as complex, but I really loved how honorable and caring Lucas was right from the start. He went from a scrawny computer geek who was bullied to a hunky billionaire with a heart of gold. It impressed me as we learned about his transformation and the things he went through, to see how true he stayed to himself and that he didn't let his success go to his head.
Maxie was a wonderful heroine who had also been through a lot in her lifetime. I admired how she had picked herself up from the depths of despair and was insistent on being independent. She was a tough cookie who had a lot of inner strength–which was lovingly pointed out by Lucas. And she remained a caring woman in spite of all she went through. I loved that their relationship over the years was a strong one, even if it was platonic. Of course they had romantic feelings for each other but never thought the time was right to act on it. I think that's why they seemed so sweet and so right together. Because Maxie and Lucas had that foundation of friendship to strengthen any changes that came along in their relationship. *dreamy sigh*
Carly Phillips pulled out all the stops for Going Down Fast and included just the right amount of action and intrigue along with hot & naughty scenes. This series is proving to be an absolute joy to read. I can't wait to see what's in store for us with Derek's story up next!
Book Info:

Publication: Published October 11th 2016 | by CP Publishing | Billionaire Bad Boys #2
Billionaire Bad Boys: Rich, Powerful and sexy as hell.
Lucas Monroe dropped out of college only to become a multi-billionaire and tech world God. He can have any woman he desires in his bed, but the only woman he's ever wanted is off limits and always has been.
When Maxie Sullivan finds herself in dire straights, the only man she can turn to is the one she's always secretly loved: her childhood best friend.
Can they trust their hearts and make a future, or will their complicated pasts stand in the way?
This bad boy is going down fast …
And going down fast has never felt so right.
The second stand-alone novel in the Billionaire Bad Boys series by New York Times Bestseller Carly Phillips.