Her Naughty Holiday by Tiffany Reisz: After reading (and loving!)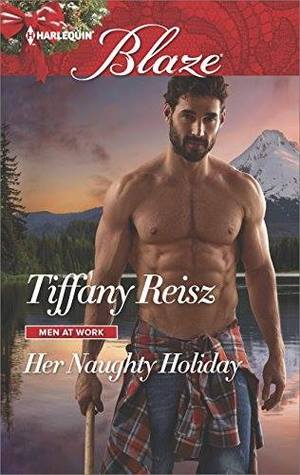 Her Halloween Treat by Tiffany Reisz, the first in her holiday-themed romance series Men at Work, I was anxious to get my hands on Her Naughty Holiday. Set in the same tranquil and idyllic locale of lakeside Oregon, it's a great follow up and just as delightful as the first story in the series.
Clover Greene runs a successful plant nursery operation. In fact, it's so successful that she's been offered a multi-million dollar buyout from a larger company, a decision she has to make at the same time as she's dreading hosting her somewhat obnoxious family for Thanksgiving. Since they only seem interested in her love life and not the fact that she's built her own business, she and her 17 year old employee Ruthie come up with a plan to have her present a fake boyfriend to the family for Thanksgiving dinner. Ruthie thinks hiring male escort 'Sven' would do the trick, but she's a sneaky young woman and contrives to leave her phone behind when heading out on a week long holiday at her mother's place out of state, conveniently meaning her single father will have to pick it up for her. Erick Fields loves his daughter dearly but can admit that a few days without her is a relief – especially when Clover confides in him their plan, and promptly asks Erick if he'd mind filling in as the fake boyfriend. Having had a crush on Clover since she hired his daughter a year ago, it's no hardship to say yes, especially with the sparks of attraction bouncing between them. Giving in to temptation they quickly take advantage of his child free state for some steamy encounters. Could this Thanksgiving give them even more to be grateful for than either expected?
Just like in the first book in the series, the fun and witty banter holds center stage, right up there with some steamy sex scenes between the couple. Clover hasn't had much experience with men, especially since she's been running her business full time 7 days a week. But that hasn't stopped her from side-eyeing her employee's very handsome, rugged, hardworking contractor father (a fact that hasn't escaped Ruthie's notice). With the opportunity to let loose with a man who also hasn't had much time for dating while dealing with his very energetic daughter, Erick makes her feel desired and appreciated. The banter doesn't stop outside the bedroom door and indeed makes great fun of how messy and awkward sex can really be. They feel like real people experiencing the rush of sexual attraction and all that comes with it. In fact Clover has had a crush on Erick just like he had on her, so it's no hardship for them to admit to each other that they are enjoying this interlude together, and want more. Also, Clover feels like she knows Erick already from the conversations she's had with his daughter about him, and vice versa. The result is two people who know in a very short time that they have found someone special.
Clover's relationship with her family unfortunately isn't all that unique. With married siblings who already have children, and two college educated parents, Clover doesn't seem to be able to do anything right in their eyes. Her parents are still smarting over the fact that she left college without a degree to work with her hands. They have no appreciation for the hard work and dedication she's put in to build her successful business. Her siblings are no better, believing that she can't be happy because she isn't married with children. Erick rightly sees how truly insensitive and rude they are being to her from the first moment they walk in the door for their Thanksgiving dinner. But Erick's faith and support in her gives Clover the strength to finally stand up for herself.
Erick's daughter Ruthie has some scene stealing moments herself, as a precocious older teen with an attitude and a firm belief in the power of Mother Nature. She is definitely a unique character whose plan to get her boss and her father together finally comes to fruition. All in all, this is a story of family, laughter and sexy romantic love, complete with a slice of pumpkin pie.
Book Info:

Publication: Nov 1, 2016 | Harlequin Blaze | Men at Work #2
A feast she wasn't expecting!
Clover Greene would sooner crawl into her oven than host family for Thanksgiving dinner. Yet another annual ritual of too much food, served with a side of criticism over "Clover's Bad Life Choices." This year, she needs to distract them all—with a handsome fake boyfriend. And she has the perfect guy in mind.
Contractor Erick Fields is the poster boy for sexy single dads, and Clover has been secretly crushing on him for ages. She certainly wasn't expecting Erick to agree to her insane charade…or to add lots of hot, wicked sex to the deal. If they can pull it off, the worst Thanksgiving ever might give them something to be really thankful for!