In Gone to Dust (Gravediggers #2) by Liliana Hart, Romance author Miller Darling is eyeball deep in writing her latest novel when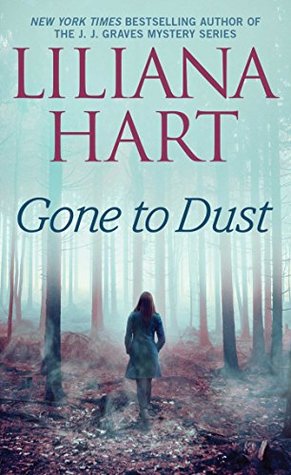 she gets a gruesome mail delivery. In it, she learns that her brother, an ex-Navy SEAL, is being held hostage and unless she helps find the missing treasure he was chasing, he'll be killed. Ready to set off on her own to rescue him, Miller finds out a huge secret. The hunky group of guys helping her best friend Tess out at the only funeral home in Last Stop, Texas, are actually former military men from around the world who are undercover, helping take down terrorists. And the sexiest one of them all, Elias Cole, the guy who left her a wanton mess on her front porch and then took off, is going with her on her mission. Which is a terrible idea. Miller isn't sure if by the end of their adventure she'll want to kiss or kill Elias. But either way, she won't stop hunting until she finds her older brother.
"I feel like I'm being pretty patient here, but I'll ask again," Miller said. "Who the hell are you people? This is freaking Last Stop, and sexy gravediggers don't just bust into houses like G.I. Joe and save the day."
Elias left behind his family and his hope for a future beyond that of a Navy SEAL when he was forced to join The Gravediggers. Once, he believed he'd have a wife and family of his own but he watched those dreams die when his good name was dragged through the mud. Now part of an elite group completely off the radar, Elias is just waiting for the day he can fight back against the person who ruined his life. But the moment feisty Miller appeared in his life, he knew there was no turning back. Even though he can't give her the future she deserves, and even though she herself doesn't believe in happy ever afters, Elias is willing to take what time he can get with Miller. And if that means protecting her while she's on the run, searching for her brother, so be it. He'll gladly risk his life to keep her safe and show her how much he cares for her in the meantime.
"See, you're helping me write a book. I'll mention you in the acknowledgments."
"I'd rather get the happily ever after," he told her. And then he realized what he'd said. It was easy to get sucked into the illusion that being with her was normal. That they could have a normal life. But happily ever afters weren't in his future.
Gone to Dust was a suspenseful romance filled with one heart-stopping predicament after another. Author Liliana Hart's ode to the movie Romancing the Stone, this was a fun reading adventure I'd take over and over again.
"I'd really rather not have to shoot anyone and dump them in the ocean. It's more of a pain in the ass than you'd think."
"Everything involves red tape nowadays," she said dryly.
He hooted out a laugh. He'd missed her sarcasm and dry humor like crazy.
I am seriously loving the Gravediggers series and every single character we've met thus far. And having said that, this could be read as a standalone pretty easily but I think readers would get more out of it if they've read book one, The Darkest Corner, first to set things up. We got to see glimpses of Elias and Miller's chemistry in the first installment so it was great to get more in depth with them here. I was kind of surprised by how much giggling I did whenever Miller and Elias were together arguing, I mean, bantering. They both had a good sense of humor and their conversations alternated between being sarcastic and then flirty. So in other words, Liliana Hart gives good dialogue. 😉
The match up this time was a cool combination between a romance novelist who didn't believe in HEAs and a former Navy SEAL who was deemed dead to his family and loved ones. Sounds kind of bleak, I know. But I thought Miller and Elias had a pretty good grasp of their place in life and had come to terms with their issues for the most part. Miller was such a riot and I adored her friendship with Tess (the heroine from book one). We got to read passages from Miller's latest book–which I loved–and watched as she alternately dealt with a tragedy from her past and also gave Elias hell for walking away abruptly a couple months prior. Elias was a great guy who had been wronged and was pushed into the Gravediggers crew with no other option. I could understand why he was so angry over it. But it was the way he finally gave in to his feelings for Miller and how wonderful he was with her that really got to me. What a terrific couple they made.
Comical, sexy, and full of wild action scenes, Gone to Dust will make you a fan of Liliana Hart's work if you aren't one already. I think readers will have a fantastic time with this story and will wonder–just like me–how Hart will top this book.

Book Info:

Publication: Published June 20th 2017 | Pocket Books | Gravediggers #2
The Gravediggers aren't exactly what they seem. They're the most elite of the world's fighting forces—and all they have in common is that they've been betrayed by the countries they've died for. Because they are dead. To their country, their military, and their families.
Sometimes the dead do rise….
Miller Darling is one of the most popular romance novelists of her time. Not bad for a woman who doesn't believe in romance. She's as logical as they come, and she doesn't believe in happily-ever-afters. What she does believe in is family, so when her brother disappears, she doesn't think twice about packing her bag and her laptop and heading out to find him.
Elias Cole lived and breathed the life of a Navy SEAL. Now he's "dead" and his hero's honor tarnished. The only thing keeping him sane are the men who are like him—The Gravediggers—and the woman who makes his head spin. He's never met anyone like Miller Darling. Her smart mouth and quick wit keep him on his toes, and damned if he doesn't find that appealing.
When Miller receives a package from the brother who abandoned her asking for help, it's clear she's in over her head with the mess he's gotten himself into. She needs a professional, and Elias is just the man for the job. Only her brother is a former SEAL—the man who left his team to die—and Elias is more interested in vengeance than saving his life.