Greek Millionaire, Unruly Wife by Sun Chara: A whirlwind romance and marriage ended after three months in when Julia walked in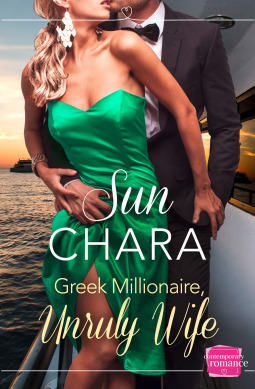 on her husband and a woman in lingerie. A year later, Michalis sees Julia on the catwalk and finally gets his chance at revenge for her walking out – and never telling him about their baby.
Michalis blackmails Julia into spending the month with him. After the month, he'll be willing to finalize the divorce. But before the month is out, Julia and Michalis will have to come to terms with each other and the remnants of their marriage and love for one another.
Right off the bat, I'm not a fan of the secret baby trope or misunderstandings causing conflict. I do enjoy the hate to love romance and so that was the one bright spot for me in this story. The writing itself was confusing though. I feel like all throughout a lot of information was missing and there were in general a lot of errors. An issue which constantly kicked me out of the story.
I can't say I particularly liked Michalis or Julia either. They were a bit boring and their romance just wasn't developed. I don't know why they feel the way they do for one another. Also, they kept commenting on their supposed witty repartee, but it was neither witty nor sparring. It was just stilted conversation.

Book Info:

Publication: April 7, 2017 | HarprCollins UK |
When Michalis Leonadis' bride jumps ship at the first sign of rough waters, he's annoyed. When she costs him a marriage and a billion dollar deal, he's furious; but when he discovers she ditched him whilst harboring a secret…he's out for revenge.
Ex-model, Julia Armstrong gave up everything for Michalis but when she catches him with another woman, crushed, she jets out of his life. The proud Greek blasts back into her world seeking retribution—in exchange for a divorce, he demands she relinquish the one thing she cannot. Her daughter. Only one other bargaining chip remains…Julia herself.