In Grappling for Position (Against the Cage, #4) by Melynda Price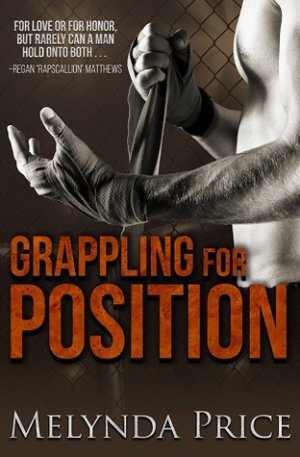 Regan "Rapscallion" Matthews turned to MMA fighting after years of abuse at the hands of his drunken father left him looking for a way to stand up for himself. And he's certainly done just that, becoming one of the biggest names in the welterweight class. The only thing clouding his success is the fact that he's in love with Willow Scott, his best friend Kyle's younger sister. Regan alternates between wanting to give in to his feelings and trying to keep things platonic, considering how much a part of the Scott family he's become over the years. But when Willow gives him no option but to face their attraction, he jumps in with both feet and prays Kyle will be able to accept the truth about them.
"…You've always been a part of my life, and I don't want to lose you now–not over this. But the thought of betraying Kyle kills me. There isn't much that makes me a good man. If I give up my integrity, what will I have left?"
"You'll have me," she pleaded in frustration.
Willow has always had a crush on Regan and over the years it's morphed into something much, much more. We're talking the L-word. And she's tired of skating around the subject when she knows Regan feels something for her too. Willow isn't sure what to expect from the handsome fighter when she lets out the truth, but only knows that she doesn't want to break up his friendship with Kyle, who's been like a brother to him over the years. But she also knows that they deserve a shot at love after all the tragic things that have happened in their lives. And unfortunately the hits just keep coming when their things become a jumbled mess between Regan's fighting career, Willow's brother's over-protectiveness, and their pasts coming back to haunt them.
'She'd be lying if she said the abrupt change of heart wasn't making her head spin a little. Had he finally decided to stop fighting it and give into whatever this was between them?'
MMA books don't get much sexier or more emotionally involved than Grappling for Position. With larger than life characters, lots of personal dramatics, and a romance that's been brewing for several years, it was difficult to tear myself away from this book until I flew through every page.
'She knew she wasn't playing fair, but Willow was past fair; she was playing for keeps.'
I'm new to the Against the Cage series but I enjoy MMA contemporary romances and am always looking for new well-written books in this sub-genre to read. And I have to admit that I can see myself binge-reading Melynda Price's work right away. From the way she showed the progression of emotions our characters went through in an honest way, to the undercurrent of family and friendship she explored, I thought there was a richness to this story that really resonated. And I loved that not everything was resolved right away while all of the characters were struggling with their own issues. They had to work for their HEA, some of them battling constantly for years, but it was so worth it all in the end.
There were a couple of things that set this apart from other books in the genre to me. Firstly, each of the novels happen all in the same time period instead of building from one book to the next. So these can easily be read as standalones. (Although I think you'll love the characters and their MMA group so much that you'll be checking them all out, just like I will!) And secondly, this wasn't your typical best friend's sibling trope. Usually the hero is shown as someone who didn't pay any attention to his friend's little sister until she was all grown up. But Regan and Willow had years where they both pined away for each other while in the meantime they built a wonderful friendship and were each other's support system. What a great foundation they already had of trust and love when this story began so it just felt right that they should end up in a romantic relationship. Even if Willow's brother Kyle, Regan's best friend, didn't share that point of view.
I was pretty knocked out (pun intended) with really all of the characters here. Willow was a strong-willed, highly intelligent young woman who knew she wanted Regan and changed the game to push him into making a decision about them. She'd been through so much when she lost her parents and was severely injured herself and the problems surrounding that accident just kept haunting Willow. And Regan had been raised in a horrific home, finally turning to MMA to take back his life and stand up for himself. I adored him and equally adored the relationship he forged with Willow. I thought Regan turned out to be a standup guy full of integrity, humility, and just enough naughtiness to make me smile. It was interesting to see Willow's brother Kyle added into the mix, to see them all interact as a family and watch as he was the typical overprotective brother when the truth came out about Regan and Willow's feelings towards one another. Let's just say it didn't go so well at first and understandably so.
Grappling for Position was a high velocity romance that kept me on edge with a bit of suspense, a bunch of complicated relationships, and a love that was both passionate and tender.
Book Info:

Publication: March 2nd 2017 | Melynda Price | Against the Cage, #4
This battle of wills is about to go below the belt…
Willow Scott is sweet, innocent, and 100% untouchable. She's the epitome of everything MMA fighter Regan "Rapscallion" Matthews has always wanted, but will never have. A woman like her deserves more than a scrapper from the wrong side of the tracks—the Scott's charity case.
Unfortunately for Regan, his best friend's little sister is all grown up and she's tired of playing by the rules. When Willow sees something she wants, she goes after it—damn the consequences—and her sights are set on him. With a shot at the Welterweight title finally within his grasp, Willow Scott is a distraction Regan can't afford. But this willful woman is determined to make him tap-out.
Willow has been in love with Regan Matthews since she was in pigtails and braces. Over the years, she's all but given up hope of her brother's friend returning her affection, but a part of her never stopped praying that someday he would see her as more than Kyle Scott's annoying little sister. If Willow has her way that's all about to change, and Regan must decide if he's willing to risk losing his best friend and the Welterweight title for a woman he doesn't deserve but cannot live without.
**All Against the Cage books can be read as stand-alones**