Greek Tycoon's Mistletoe Proposal by Kandy Shepherd: When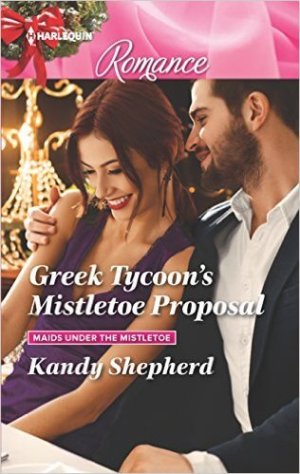 everything seems like it's falling apart and you take one more chance, what are the odds that said chance will win you the world?
Ashleigh Murphy was tired of doing the predictable. She was tired of settling, so she was going to break her engagement and break out of her shell. Which explains why she was halfway around the world, but does it explain why she was taking a bath in a rich man's house?
Lukas Christophedes was tired of the games. He was tired of the holidays and just wanted to be done. His business deal would expand the company and he could finally relax, maybe. The problem was he wasn't sure how he was going to close this particular deal, until that is he opened up his front door.
When Lukas and Ashleigh strike a deal neither is looking for more than the out, but when the out makes itself available they realize that they may have found more than they were looking for.
This series is so much fun. While the books stand on their own, they are great as a series. This particular novel flows with a good clip and is full of character development. Ms. Shepherd has done a great job with the details of the story without being overwhelming. This is a sweet quick read and a true holiday joy novel.
Book Info:

Publication: November 8th 2016 | Harlequin Romance | Maids Under the Mistletoe #2
A proposal of convenience!
When guarded billionaire Lukas Christophedes finds maid Ashleigh Murphy living in his mansion, he strikes a deal with his gorgeous gate-crasher. If Ashleigh acts as Lukas's girlfriend to help him close a crucial business deal, she can stay until the New Year.
For newly single Ashleigh, agreeing to keep hearts off the table sounds easy…until the line between what's real and what's for show starts to blur! And as Christmas approaches, dare Ashleigh hope that Lukas is considering a different, much more heartfelt, romantic proposal…?