In A Date at the Altar (Marrying the Duke #3) by Cathy Maxwell,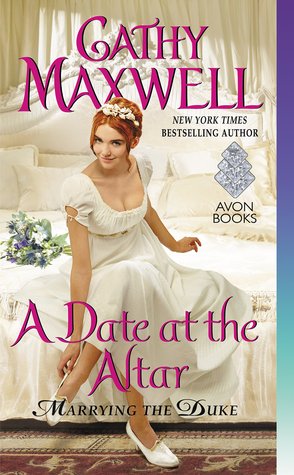 The Duke of Baynton, Gavin Whitridge, has watched as not just one, but both, of his brothers have fallen in love and married the women who were supposed to become his wife. He knows he did the right thing by giving them his blessing but he can only imagine what the Ton must be saying about him. On the hunt for his future duchess, Baynton comes across Mrs. Sarah Pettijohn, an actress and playwright who has a habit of getting under his skin with her outspoken ways. Soon he realizes how much he admires her strength as they get to know one another better. And before long he can think of no other woman but the beautiful redhead who is everything he wants, but who is no match for a duke in society's eyes.
'To those who didn't know her well, Sarah seemed a strong woman. But Gavin had learned the other side of her. When she loved, she gave all…and she loved him.'
Life has always been complicated for Sarah. Born as the bastard child of a member of the peerage to a fallen woman, she knows there are very few choices for a person of her station. But she has worked hard for years to become a successful playwright and she will not stop until her dreams are realized. So when the Duke of Baynton, a privileged but unlucky man when it comes to love, wishes to strike a bargain with Sarah, she must weigh her options carefully. One decision could lead to a life such as her mother had, or another choice could leave her destitute with no hope for her stalled career. Either way, she finds herself falling more and more for the handsome duke–even though it is the last thing she needs in her life.
"I love you," he whispered, kissing her eyes, her cheeks, her lips. "You," he repeated. "Whatever happens in my other life, you are the one I value. The one I cherish."
His other life. She realized her own foolishness in believing she was his only life.
Finally! Yes, the Duke of Baynton finally gets his happily-ever-after in A Date at the Altar. For those of you who have been following this series since the beginning, I think this particular story will make you very, very happy. And possibly swoon.
First I should caution that this is one of those times where it would be best to read a series in sequential order. It will make this installment much more interesting and you will understand what the duke went through in order to find a wife. (Poor guy) I think Cathy Maxwell found the perfect match for Baynton in Sarah. At first, I wasn't sure how she would make their romance work, but the progression of their relationship–from antagonistic acquaintances to lovers–seemed genuine and true. And it turned out to be oh so very sweet, as well.
From the first time they met in book two, Marrying the Duke, Sarah and Baynton had a unique sort of chemistry between them. They appeared to be quite different in terms of personality, she was outspoken and he was staid and proper, but I liked that they were both upstanding individuals. They cared a great deal about those they held dear and wanted to do the right thing. And it was also interesting to watch Sarah help Baynton learn about love and pleasure, while he was able to assist in her career and, ultimately, her self-confidence. I will say that I was a bit surprised that she was at such a bleak point in her life when this book began, and by how unhappy and lonely he was, so I loved that they could lift each other's spirits as they fell in love.
I'm not sure if Ms. Maxwell has anything more in store for us in the Marrying the Duke series, but if not, this was a fantastic way to close things out. It had pretty much everything you could want in a Regency romance: a scandalous situation, interfering family members, a passionate love match, and even a duel. How can readers not enjoy themselves, right?
Book Info:
Publication:

October 25th 2016 | Avon | Marrying the Duke #3
New York Times bestselling author Cathy Maxwell's glittering Marrying the Duke series continues—Twice he has been close to the altar and still no duchess.
Will the third time be the charm? A duke can't marry just anyone. His wife must be of good family, be fertile, be young. Struggling playwright Sarah Pettijohn is absolutely the last woman Gavin Whitridge, Duke of Baynton, would ever fall in love with.
She is an actress, born on the wrong side of the blanket, and always challenges his ducal authority. She never hesitates to tell him what she thinks.
However, there is something about her that stirs his blood . . . which makes her perfect for a bargain he has in mind: In exchange for backing her play, he wants Sarah to teach him about love.
And he, in turn, has a few things to teach her about men . . .