In Landing the Air Marshal by Jennifer Blackwood, Abby Winters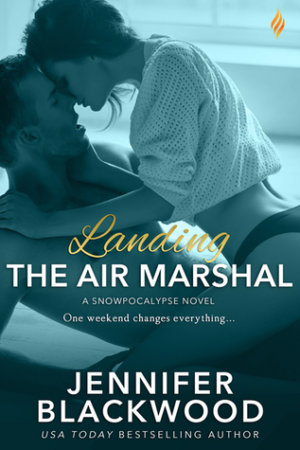 hates flying. Luckily, the off-duty air marshal that sits next to her during her flight offers her a distraction she desperately needs. Spending more time with Gabe after they land feels right, but when the time comes to part ways, both will be left questioning everything. Can a relationship between them ever work when they both are so committed to their careers and they live so far apart?
She groaned, and her pretty pink lips curled into a grimace. "Good to know the bar is set so high."
"See? You could be way worse." He set a reassuring hand on her thigh, and the slender muscles coiled under his touch.
She let out a deep, shaky breath. "Noted. I'll wait to belt out my version of 'I Dreamed a Dream' until after we've landed."
I've enjoyed every book I've read by Ms. Blackwood, and this first story of her Snowpocalypse series was no different. Right from the beginning, I was drawn into this story due to the heroine's dilemma. She's terrified of flying and her worry over the things that could happen while up in the air had me feeling sorry for her. Luckily, Gabe comes to her rescue with his charm and his ability to take her mind off her phobia.
As for the dialogue, there was a lot of playful banter between Gabe and Abby that had me laughing or smiling. Their banter increases the sexual tension between them until it spills over onto the pages in scorching sex scenes that leave the pair wanting more, questioning everything about their lives and wondering if they can make a relationship between them work. However, there was also some intense dialogue due to the main characters back stories and the question of whether Abby will get the promotion she vying for. The guy she is competing against was a real jerk, believing that sucking up to the boss was the way to go, instead of getting the promotion with hard work. Indeed, I could understand why she was concerned.
I really liked both the main characters, and Gabe's niece definitely warmed my heart with how cute she is. However, I'm still undecided on Gabe's mother. She wants her son to settle down, and yet the women she sets him up with would never hold his attention for long. They're too sweet for a man like him, and no way could they handle his need for control in the bedroom.
Abby is strong, brave, hard-working and I liked that she was willing to give Gabe a chance. Having a one-night stand wasn't something she'd normally do, yet the risk was worth any price she had to pay. While Gabe, he's hard-working, charming, and I loved how close he was with his family. He and his niece have quite the bond, and I sympathized with the fact that he didn't get to see her as much as he wanted. Moreover, I liked what he did for his niece when Gabe took Abby on an adventure in New York.
"Are you ready to make a snow angel now?" he said, rolling over to lay beside Abby.
Abby looked over at him, more snow falling from her hair onto her face. "Do I have a choice in the matter? Or am I just going to get more snow to the face?"
Overall, Ms. Blackwood has penned a delightful novel with plenty of romance, wonderful characters that left this reader constantly wondering how this couple would achieve their happy ever after, and dialogue that was well-written and kept me entertained with their teasing banter. The way this story ended was perfect, as Gabe definitely made up for leaving her the way he did when they parted ways. Yet, it was the epilogue that wrapped everything up nicely, as I wanted to know whether Gabe and Abby finally joined the mile-high club. I would recommend Landing the Air Marshal by Jennifer Blackwood, if you enjoy a couple that find love when they least expect it.
Book Info:

Publication: September 12th, 2016 | Entangled Brazen | Snowpocalypse #1
As an Air Marshal, I have two rules: keep everyone safe and always remain professional. But when I take a seat next to the hot blonde in 7B, I can only promise one of those things.
Abby Winters and her uptight librarian attire are more than a little distracting. And when she grabs onto me during turbulence–all bets are off.
A mile-high hookup is great, but what happens when we land and neither one of us wants to walk away…