In Handled By The Officer (Women Behind The Badge #1) by Kym Roberts, Kiley is a police academy recruit for the Kansas City Police Department…talked into it by her sister Kay "Lee". Kiley can't help but noticing Officer Walt Raynham, he "…commanded attention. Demanded to be acknowledged whether she wanted to or not." It's even trickier to not acknowledge him because he is her instructor…and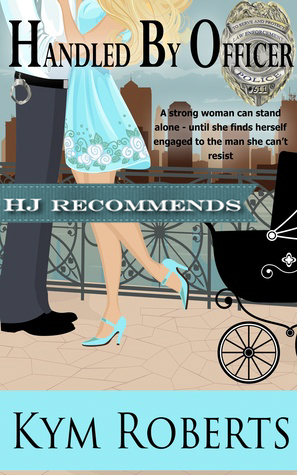 despite his resistance, he is definitely noticing her. "Unwanted desire burned hot and primal in her core. Both of them felt it. Neither one of them wanted it."
When Kiley concludes being a police officer is definitely not her calling, she turns her back on the man who makes her lose control, going back to the safety of her former boyfriend. Kiley isn't easy to forget though, and despite Walt's determination that his career is not one meant for someone with a family, he still thinks about her…especially with her sister as his partner.
When circumstances bring them together again, and in Kiley Walt sees everything he didn't know he wanted, will they still resist each other? As events become more serious, more dangerous, will they even have a chance?
I loved Handled By The Officer! Kym had me laughing from the start…I love her descriptions of the new recruits, they struck me as believable. I could feel Kiley's nervous energy. I admired Kiley for the courage to do something she was so unsure about, then having the strength to walk away when it was time. Walt and Kiley are a great hero/heroine, they try so hard to not be together. The circumstances they find themselves in are a perfect blend of humor and serious. I really liked both of them. I loved Walt and his initial partner Bret's interactions. There is great character development in Handled By The Officer, Kym really pulls you in and makes you want to know more about Walt and Kiley right away.
There are a lot of great secondary characters in Handled By The Officer who add a lot of dimension to the plot without taking away from it.
I really liked the time frame that Handled By The Officer was spread out over, Kym made it work really well and transitioned so smoothly. Handled By The Officer is well paced, with enough action and suspense to keep you on edge, well balanced with romantic conflict. I loved the unexpected plot twists and seeing how Walt and Kiley dealt with life's unexpected turns.
I'd highly recommend Handled By The Officer to any romance reader who wants to go from one end of the emotional spectrum to the other thanks to some great writing, not to mention a man in uniform!
Book Info:

Published July 2014 by Kym Roberts | (Women Behind The Badge #1)
Recruit officer Kiley Gibbons has walked in her twin sister's shadow her entire life—born two minutes after, she's five inches shorter with curls gone wild and the exact opposite of her outgoing, athletic sister. But that's exactly why she's the one woman who caught Walt Raynham's eye, and she's the only one who threatens his future in the tactical unit.
Officer Raynham is everything Kiley needs to distract her from the daily grind at the police academy, too bad his drop dead gorgeous body is wearing the uniform of her boss. And when the academy is finally behind her, Kiley must find the strength to walk away from the man she shouldn't touch.
But when her friend's death leaves Kiley with two children to raise and a custody battle she just might lose, there's only one man strong enough to step in and fill the role of her fiancé. Now Kiley's not sure she wants to resist the temptation Walt causes, and he's not so sure a family would be such a bad thing. Together, they discover love and an engagement of convenience could be an unstoppable force for happily ever-after … until a killer has another idea that may cost them everything they didn't want.