Falling for Her Husband (The Renaldis #3) by Karen Erickson: When Amber Hall met Vincenzo Renaldi, it was love at first sight. Their passion for each other was hotter than a raging inferno and as a result, they got married. They were blissfully happy for a very short time because almost immediately, Amber's modeling career took off, and her time was not her own. She travels constantly and rarely has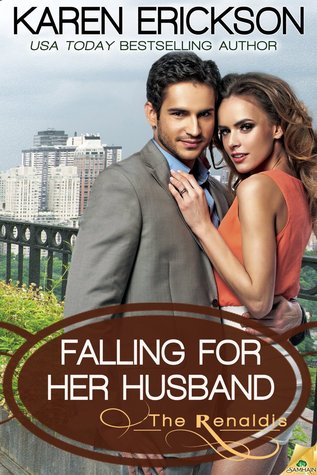 any availability for her new husband. Vincenzo spends most of his life in Italy, running the successful fashion house bearing the Renaldi name.
Amber and Vince are two ships that pass in the night. They love each other unconditionally, but due to their hectic work schedules, being together is next to impossible. When Vince finally reaches his breaking point, he confronts Amber about their future. Angry and upset that alpha Vince will not accept that their marriage is over, Amber innocently walks right into the busy New York City traffic and gets hit by a car. Her face is now scarred, her arm is brutally broken, and she cannot remember anything about the accident or their independent lives.
This series is centered around the three Renaldi brothers, and this time Vince is in the hot seat. I liked his character, especially the way he loved and cherished Amber. He fought hard for his marriage and I felt his pain as he tried to do what was best for their situation. He did not let his traditional views on marriage interfere with his love and future with his wife.
Amber is a survivor, facing the fact that her life as model may be over and that she may never remember some of her past. Her independence, as well as her love for Vince carries her through the most painful of times. Her ability to forgive, understand, and stand up for herself only makes her a stronger and more beautiful person.
Falling for Her Husband is the third and final book in The Renaldis series, which I read in its entirety. Although the plot is predictable, it is entertaining as well. I really liked this slightly emotional, nicely-paced romantic read. The love scenes are sinfully hot and loaded with real passion. The characters are well defined and engaging, especially Amber's delightfully wicked agent. Overall, a satisfying conclusion to a well-written series.
Book Info:

Publication: July 22nd 2014 by Samhain Publishing |  (The Renaldis #3)
She's desperate to remember…and he's desperate to forget.
The Renaldis, Book 3
As one of the heads of his family's well-respected fashion house, Vincenzo Renaldi is used to living life at light speed. His relationship with Amber, a successful model, was the definition of "jet-set", from whirlwind romance to quickie wedding. Now, at the rate these two workaholics are going, they may as well live in two different worlds.
Determined to recapture the magic that drew them together, Vince flies to New York to confront his wife. And only succeeds in chasing her away—straight into the path of a moving car.
When Amber awakens in the hospital, she's overjoyed to see her husband by her side. Yet there's something behind the relief in his tired eyes. And something behind his determination to treat her like a queen. Something that lurks just beyond the shadows of her missing memories.
And when the truth re-emerges, the pain could be a sign of healing…or the final straw that tears them apart once and for all.
Warning: The last of the Renaldi brothers finally gets his story. Which means a hot and possessive Italian man is on the menu, determined to show his beautiful wife just how much he loves her. In every sizzling, sexy way he can.