Her Knight In Black Leather by J.M. Stewart is an emotionally intense love story that is packed with suspense and intrigue. You won't be able to put this book down!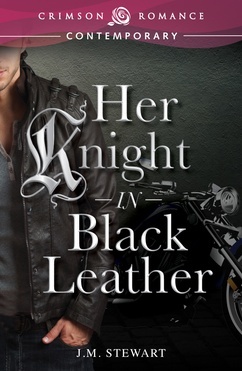 Straight laced, Cat Edwards, has agreed to a night out on the town with her roommate and best friend Lisa. While at a bar Lisa has left Cat to her own devices. Cat is forced to fend off the unwanted attentions of a drunk man, when to her surprise and relief a sexy stranger, dressed in black leather, comes to her rescue. The two pretend that they are a couple, and they end up sharing a kiss that sends electrical sparks flying for them both.
Micheal Brant is in town to visit his sick father when he decides to visit the family bar. That is where he comes across Cat and decides to help her out. The two hit it off and decide to go for a ride on his motorcycle back to his place. Unable to keep their hands off each other, the two agree to a one night stand. Unbeknownst to Cat, Micheal is somewhat of a town celebrity, and when their picture ends up on the front page of the newspaper, it becomes clear that someone is stalking them.
Cat begins to receive threatening phone calls, and Micheal feels like it is his duty to keep Cat safe, so he sticks around to make sure no harm comes her way. As the two work together to keep a stalker away things take off for them romantically. They both believe that they are not looking to complicate there lives with a relationship, but sometimes things don't turn out how you plan them.
Gifted writer J.M. Stewart has outdone herself with Her Knight In Black Leather! Her character's are damaged but show great strength. Micheal is super sexy in his black leather and his hard exterior, but on the inside he is thoughtful and sensitive. While Cat at first appears to be a wall flower, she quickly opens up and shows great courage and tenacity. Together Cat and Micheal have chemistry that is combustible. I highly recommend this outstanding book to all romance lovers who are looking for a deeply satisfying read. This is a Harlequin Junkie top pick! Kudos to Ms. Stewart!
Rating: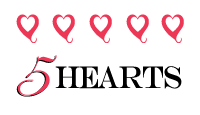 Book Info: Publisher: Crimson Romance (January 28, 2013)
Cat Edwards has spent her life playing the wallflower in an effort to escape the repressive weight of her mother's tarnished name. Dragged to a bar by her best friend in an effort to forget a broken heart, the shy bookworm is determined to be someone else for the night, but quickly gets in over her head. She discovers chivalry isn't dead after all when a mysterious stranger comes to her rescue. He's wearing black leather and a mischievous smile that promises to be exactly what she needs.
When his terminally ill father suffers a setback, Michael Brant returns to the town he swore ten years ago he'd never return to. He's come home this time determined to make peace with the past that haunts him, but being home brings up memories he doesn't want to remember anymore. His first night in town, he's captured by a damsel in distress. Cat's beauty is made all the more alluring when he realizes she has no idea who he is. He can't resist spending a single night in her arms. With her, he's only a man, disconnected from his family's name and the past that haunts him here.
As the town erupts with the news of his return, Michael's dark past comes back to haunt him, putting Cat danger. Someone is threatening her life and the life of her family. Desperate to keep history from repeating itself, Michael offers her his family's name in order to keep her safe. When the lie spirals beyond their control, can they stop their hearts from becoming entangled as well?
Sensuality Level: Sensual