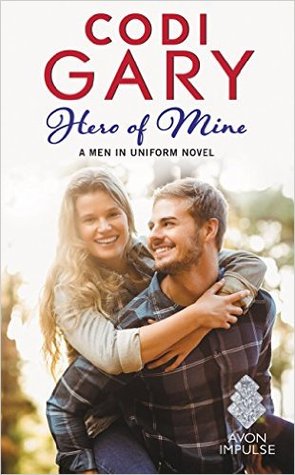 Hero of Mine (Men in Uniform #2) by Codi Gary is the second book in the Men of Uniform series. I have read each book and have loved them all. But the best thing about this series is that if you have not read the previous books, they can be read as stand alone books without losing the readers. This is the story of Tyler and Danielle.
Danielle Hill use to be a wild child. She partied, she was rowdy, but that all changed when she found out that she was pregnant. Now raising a young son, Noah, on her own, her life and her world revolve around him. She works hard to try and make a good life for them both, with the help of her parents. Danielle has been leery of dating as she does not want to bring a man into her life that may hurt her and her son when they decide that they are not what he is looking for. But she cannot resist the Marine that walks into the shelter and steals a little piece of her heart.
Tyler Best is a Marine and part of the Alpha Dog Training Program. He is no stranger to heartache. After being injured while on active duty, he not only destroyed his knee, but he lost his best friend and most cherished pet when they were both caught in the cross fire. His job is to find dogs with the right temperament to work at Alpha Dog. When he walks in and hears the feisty woman threatening the doctor over a injured dog, he can't help but offer help. She is beautiful, she is fierce, and she takes his breath away. But Tyler knows that he needs to keep his distance, because he is not the forever kind of guy.
When Tyler and Dani keep running into each other, and he gets to know her son Noah, he begins to feel more and more like they are the family that has been waiting for him all of his life. The missing pieces of his soul. But when Dani's ex re-enters the picture, and Dani is injured and Noah goes missing, Tyler will move heaven and earth to get Noah back and protect the family that they have become.
What I love so much about this particular story is the Tyler and Dani are just so perfect for each other. Neither want to hurt the other, and both want to protect Noah at all costs. The more time that they spend together, the more that they both feel like they have been waiting for each other for all of their lives. The protective nature that Tyler shows when it comes to Dani and Noah is heartwarming. I love how he will do anything to make sure that they are safe. Dani allows Tyler to have a safe place to bear his soul. And little Noah is just so darn cute that you can't help but love him.
Oh how the might fall when Tyler realizes that that the man who was always out for a good time finally realizes that his life is the Dani and Noah. I cannot wait to see which big bad Marine falls next.

Book Info:

 Expected publication: August 16th 2016 | Avon Impulse | Men in Uniform #2
The men of Alpha Dog, a second chance program for at-risk teens, work hard and play hard. And when it comes to protecting the women they love . . . nothing stands in their way.
Danielle Hill used to live on the wild side, until a surprise pregnancy forced her to get her act together. Now her whole life revolves around her young son, and she will do anything to keep Noah's heart protected, even if it means avoiding the Marine who makes her want to be oh so bad . . .
Tyler Best loves his family, his friends, and his life, and he plans on living it to the fullest after nearly losing it. But Tyler didn't bank on running into a beautiful blond with blazing green eyes and temper to match his. Tyler always thought he wasn't ready to settle down, but Dani and Noah make him rethink his playboy ways . . .
Only just as these two start to build something, a shadow from Dani's past comes back to haunt them. But Tyler will do anything to keep her and Noah safe . . . anything.