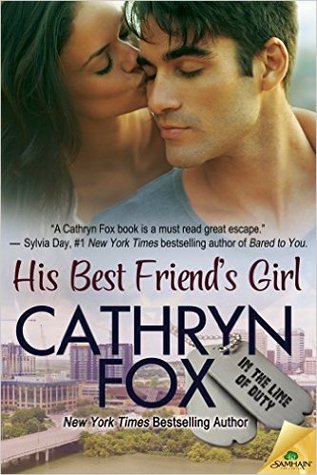 In His Best Friend's Girl (In the Line of Duty #5) by Cathryn Fox, Skylar Redmond has been best friends with Matt James and Caleb Roth for a long time. Determined to get Caleb to notice her as more than a friend, she asks Matt for help. But what starts out as pretend to make Caleb jealous soon has Skylar questioning if she's chasing after the wrong man.
Matt James would do anything for his best friends, but agreeing to help Skylar capture Caleb's attention is complete torture, since he's been in love with her for quite some time. Yet, he's never pursued a relationship with her. Believing she deserves a man that can give her so much more than he has to offer. But the longer the charade of them being a couple goes on, the tougher he finds it becoming to give her up when the time comes.
"So let me get this straight. You want me to go over to the pool table, drop this napkin, and bend over to show off my ass because you think that's what it's going to take to get Caleb to finally notice me as something more than his friend."
Having read the first four books of this series and absolutely enjoying each one, I'd have to say that Matt and Skylar's story is the best yet. Its fast-paced plot was captivating, and the first chapter started the story off exceptionally well with one of Skylar's friends giving her advice on how to get Caleb's attention and chatting about what she thinks Matt would be like in the bedroom. And from that moment on it just keeps getting better, as the chapter ends with Skylar becoming embarrassed when her secret crush is exposed to the one person she didn't want finding out so soon. However, what really made this story so entertaining was the internal conflict of both main characters, most especially the hero. Matt is so in love with Skylar, and it's hard to be helping her attract their other friend's attention when he wants her all to himself.
There are scenes where the dialogue gets quite intense like when a patron of Skylar's bar gives her trouble. Yet, most of it was light and playful, not just between the main characters but the secondary characters as well. Kat, one of the secondary characters, is a real hoot with her advice and opinions. And all of the scenes that she was in made me grin, especially this one where she and Skylar are discussing what a fake relationship with Matt should entail.
Kat shuffled on the bed, like she was totally excited by the idea of her and Matt pretending to be an item. "You'll have to pour it on all the way, my friend."
Her stomach tightened. "All the way?" she repeated, not really liking the gleam in Kat's eye or the way she said all the way, because to Sky all the way meant sex.
"Yeah, lots and lots of touching," Kat explained.
She relaxed a bit. "Yeah, I mentioned that to him."
"And don't forget the kissing."
"You think we have to kiss?"
"Sure. Couples who are crazy about each other, and especially ones in a new relationship, kiss all the time. You saw Luke and Emery last night, didn't you? Those two couldn't keep their hands off each other."
I really liked both characters, and their back stories certainly explain why they have such a close friendship, and would do anything for each other. Skylar challenges Matt with her stubbornness and need for independence. Yet, no way does he allow her to get away with it. He's too much of a good guy to ignore how vulnerable she is when she works nights at the bar, so he's always around to lend a hand. As proven when he comes to Skylar's rescue after one of the patrons starts causing her trouble.
"Just look at him. All that muscle, those blue eyes, the hair and those hands. God
those hands…I bet he really knows how to use them to get his kink on in the bedroom."
Their strong chemistry spills over onto the pages in some very hot, fan-your-face sex scenes that answer Kat's statement about whether Matt is an adventurous lover that enjoys getting his kink on in the bedroom, which he definitely does. It was just too bad they didn't realize how good they'd be together sooner.
Overall, Ms. Fox has penned a charming friends to lover's story that ended wonderfully with Skylar giving Matt a birthday celebration he'll never forget. It also has left this reader looking forward to future releases in this series. I would recommend His Best Friend's Girl by Cathryn Fox, if you enjoy the friends-to-lovers trope where the hero takes pleasure in getting his kink on in the bedroom.
Book Info:

 October 27th, 2015 | Samhain Publishing | In the Line of Duty #5
With a little help—and a little kink—from her friend, she might just get her man.
Skylar Redmond's Sky Bar is regularly wall-to-wall hot soldiers. Yet she is alone—and getting tired of it. Forget about finding a man who'll rock her world in the bedroom. She'll settle for a guy who's stable, kind and compassionate.
Too bad that guy still sees her as the pigtailed girl from their youth, not the strong woman she is today. But maybe, with a little help, that'll change.
As an ex-military field ambulance technician, Matt James excels at performing under pressure. Pretending to be interested in Skylar to help her capture the attention of his best friend? Piece of cake—because he won't be faking it. He's been in love with her since their school yard days, but never pushed it. She deserves someone who can offer her more.
A touch leads to a kiss, and a kiss to a night that throws a kink—or three—into Sky's plan. Leaving her wondering if she's going for the wrong man…and letting the right one slip through her fingers.
Warning: This book contains a girl with her eyes on the wrong prize, and a half-cocked plan—but definitely not a half-cocked hero.