In His Merciless Marriage Bargain by Jane Porter , struggling to make ends meet while guardian to her nephew, Rachel Bern makes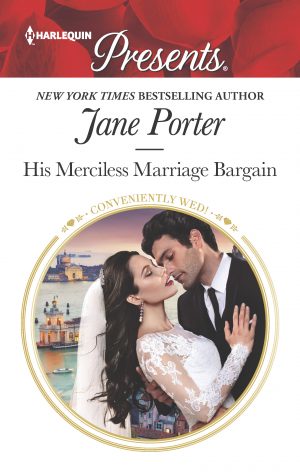 a desperate attempt to get in touch with the family of her nephew's late father. However, she never thought that meeting Giovanni Marcello would have such an effect on her, and when he asks her to marry him, she's not sure what to do. Will she take him up on his offer so her nephew has a chance at a good life, or will she deny herself what she deserves most – the love of her life?
"Being a single mom was not my plan. It was really important to me that I could be self-sufficient and financially independent before I married and had children. Instead, look at me. I show up, begging on your doorstep."
"You weren't begging. You were fierce and very defiant."
After finishing this book, I thought to myself bring on the next one in Harlequin's Conveniently Wed stories, as Ms. Porter has delivered an absolutely powerful and emotional read in this book about doing what's right for family. And certainly, it's a story that was highly entertaining and started off brilliantly with the heroine being brave in confronting Giovanni. Will Giovanni give her a chance to explain why she needs him? Will Giovanni accept that the child is his nephew? However, it was from the moment the hero and heroine came face-to-face for the first time that had me very intrigued, as Giovanni wants to dislike her because he believes she's a gold-digger like her sister that would do anything to get his attention when Rachel is nothing like her sister. In fact, she's the exact opposite in being independent and determined not to rely on anyone, and yet, she needs Giovanni as she doesn't believe she's able to provide the kind of life her nephew deserves.
As for the dialogue, it was intense due to the main characters back stories and I liked how the heroine challenged the hero because he's not used to being challenged. Moreover, she's resilient and courageous in everything she's been through because she wasn't expecting to end up with a baby at this time in her life, and yet, she's done the best she can until she realizes she needs help. I also liked how good of a guardian she was to her nephew, as there is clearly a lot of love between the two. Her nephew is just adorable and it's wonderful to see how much the little boy melts the hero's heart. Yet, what I liked most of all about the heroine was her determination to do what's right for her nephew. Will she accept Giovanni's proposal?
"I'm afraid if I married you, I'd lose myself."
"I'm not going to own you, no more than you'd own me."
"I don't think anyone could ever own you. You are far too strong, too independent."
"You're every bit as strong as me."
She gave her head a small shake. "I'm not, though. If you really knew me, you wouldn't be impressed."
While Giovanni, he's a remarkable hero with what he's done to make himself the success he is. He's also very loyal, which is proven by what he did for his brother; and I enjoyed the way he let Rachel into his life and got to know the real her instead of continuing to make assumptions about what he thought she was like. No way was she anything like what he believed of her, and I liked that once he finally got to know Rachel better that the truth came out about the relationship between her sister and his brother. How could Giovanni continue to lie to the heroine about something that was important to her? Yet, what I liked most of all about the hero is that he would do anything for those that he cared about, which is proven by what he's willing to do to see that his nephew has a good life with people that love him. Will the heroine be able to accept everything the hero is offering?
"But just like a Marcello, he does what he wants and expects everyone to adjust and accommodate his whims."
Gio laughed softly. "Thank goodness you understand your Marcellos."
"You're all a lot of work!"
Overall, Ms. Porter has delivered a superb read in this book where the main characters go from enemies to lovers to so much more and the romance does justice to their intense chemistry. The way this story ended had me concerned for this couple's happy ever after; as the heroine learns the truth about how Giovanni's brother really felt about her sister. Did his brother love her sister? However, I loved the hero's determination to make things right with the heroine. His words and his actions certainly prove his love for her. Yet, it was the epilogue that wrapped this story up perfectly, as the hero and heroine have come so far in the time they've been together and I loved how she gives Giovanni a hard time about being a Marcello and what that means for any children they have. I would recommend His Merciless Marriage Bargain by Jane Porter, if you enjoy the enemy to lovers trope, the marriage of convenience trope, or books by authors Tara Pammi, Sharon Kendrick, Melanie Milburne and Caitlin Crews.

Book Info:

Publication: December 18th, 2017 | Harlequin Presents | Conveniently Wed #90
The Italian's shock heir…
Raising her sister's child has left Rachel Bern penniless and desperate. Since her orphaned nephew's family has ignored her attempts at contact, she has no choice but to bring him to the Marcellos' Venetian door.Losing his brother devastated Giovanni Marcello. Rachel's news is another bombshell, and he can't believe that she doesn't have an ulterior motive. One kiss should unravel her deception, until their smoldering chemistry has Gio reconsidering…
Gio exacts a high price for acknowledging his heir, but Rachel cannot help but succumb to his outrageous demands. Even if it means walking down the aisle!