Untold by Shannon Richard: Brie is shocked when the birth mother she met once dies and leaves her everything. At least it'll give her a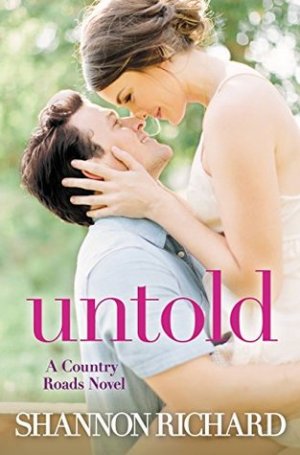 chance to finally get to know the woman who so viciously rejected her. But in visiting her birth mother's home, Brie finds herself discovering a whole lot more.
When an out-of-towner walks into Finn's family bar he can't take his eyes off her. Not since his high school sweetheart who abandoned him as Finn felt so strongly for a woman. But as soon as he learns whose daughter she is, he turns cold.
Finn's scared to love again, but he can't seem to help himself when it comes to Brie. He even finds himself wooing her to stay. But as Brie discovers some harsh truths, the one thing she wants to do is run away and leave her past in the past.
Untold definitely didn't feel strong in terms of romantic conflict, but I was gripped by Brie's journey through the past. In fact, I really wish I could've seen more of that and the deceased woman. The romance, though, was cute and sexy.
Finn was a little youthful in behavior and emotional maturity for me, but he was cute – -and I can't help but love how passionately he felt for Brie. They were a good match, and it was a community I liked.
Although Untold can be read as a standalone, I know I definitely want to read the others now to get a better sense of the characters and history. Overall, though, I definitely recommend this romance for those who want sweet, sexy, and a mysterious history to uncover.

Book Info:

Publication: September 5, 2017 | Forever Yours | Country Roads #7
SOMETIMES LOVE HAS A PLAN OF ITS OWN . . .
Brie Davis came to Mirabelle, Florida, for one thing: the funeral of her birth mother-a woman she never had a chance to know. Now Brie must sort through her mother's life to get the answers she was denied. She plans to leave as soon as she can . . . except the sexy veterinarian makes Brie's pulse beat faster than she's willing to admit.
Finn Shepherd knows Brie's only in town for a short while, but he can't stay away. Instead he finds himself looking for more reasons to keep her close. Finn's already had his fair share of heartbreak, yet Brie makes him want to take that risk again. Now all Finn has to do is convince her to take a chance on him . . . before she disappears from his life forever.