In His Scandalous Kiss (Secrets at Thorncliff Manor #3) by Sophie Barnes,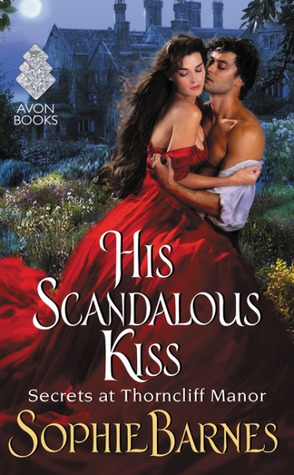 When Richard Heartly agreed to attend a masked ball at Thorncliff Manor, he never thought he would find the woman of his dreams. Especially since he's been a recluse for the past five years, having returned home from the war a changed man both physically and emotionally. He's spent those years planning how to get even with a traitorous fellow countryman but now Richard spends his days and nights trying to find a way to win the hand of the lovely Lady Mary Bourneville.
"Then you must face your fears at some point and trust that I will accept you for who you are." She paused a moment before saying, "And I must do the same."
He frowned at this. "What do you mean?"
A shy smile traced her lips. "You are not the only one who is afraid to show your true self. There is something about me that you may not be willing to accept."
Mary loves her aunt dearly but she's not sure how to make it clear to her that she's not like other young women who are intent on marriage. She would rather not trade her independence or chance divulging a secret she's hiding. But when Mary meets a masked gentleman at the masquerade, his love of music equal to hers–well, she just might have to change her mind about her future. Richard has obviously been through a traumatic experience but she knows she can help him see his true worth if they can get her aunt to agree to their courtship. Although Mary's aunt may not be the only person to stand in the way of their love.
He spread his fingers against her waist. "You are the light to which I am drawn."
"And you are the darkness that lets me shine," she whispered.
His Scandalous Kiss was a lovely historical romance that started with a few shared moments at a masquerade and finished with a great HEA. Along the way our hero and heroine had a local mystery to solve while they kept their own secrets hidden from family and friends.
'His mouth met hers, so full of love for this extraordinary woman who'd brought joy back into his life. He would give her the world if he could and he would cherish every second they'd been granted with each other.'
This truly was a passionate story filled with sweet romance and two strong protagonists who just had to find a way to be together. What struck me right away was how genuine both Mary and Richard were. Author Sophie Barnes did a superb job describing their emotions and showing that strong connection between them from the very start. I loved the fact that it was music that brought Richard and Mary together at the masquerade. It was something they both felt strongly about and led to some very tender, wonderful moments between them.
What a terrific hero Richard was. I will say that because he was a wounded warrior, this story had a bit of a Beauty and the Beast feel to it. Now, I won't give details as to his injuries so I won't spoil Richard's story, but they were severe enough that he remained in hiding for about five years until the masked ball at Thorncliff Manor where he met Mary. I liked that even though Richard was bent on revenge for the event that wounded him, he was absolutely loving and caring when it came to Mary. She brought him out of his lonely existence and completely brightened his world, which was simply a joy to watch.
Mary had her own secrets she was hiding from everyone. And she had good reason to do so. I thought she was an extremely smart and capable young woman who tried to do the right thing for her family. But in her own unique way. I loved how enchanted Mary was with Richard, even though it didn't seem they would be able to court at first. She had a way of instilling confidence in him, showing him how much she cared by supporting him no matter what. And I so enjoyed the nighttime adventures they went on while they were trying to figure out the mystery behind hidden historical items they found on the property. What fun! The mystery wasn't completely solved so there should be more entertainment for us in future installments, too.
If you're looking for a Regency romance with a dependable plot and endearing characters, look no further than His Scandalous Kiss. I hope readers enjoy Richard and Mary's journey as much as I did.
Book Info:

Publication: Published July 26th 2016 | Avon | Secrets at Thorncliff Manor #3
Thorncliff Manor is the perfect setting for a masquerade ball… where the heart's secret desires are about to be uncovered in this scintillating Regency romance from Sophie Barnes…
Richard Heartly has exiled himself from society since the war, plotting his revenge for a terrible betrayal. A masked ball at Thorncliff Manor is intended to be a brief diversion. Instead, he encounters a fascinating young woman as entranced by the music as he is. He can't reveal his identity to Lady Mary. But her siren song keeps drawing him back, and their clandestine meetings could be hazardous to his plan—and to her virtue.
Avoiding an unwanted marriage was easy when Lady Mary was ignored by the ton. Thanks to her dazzling appearance at the masquerade, she's a wallflower no longer. Eligible suitors abound, yet the only man she wants is the brooding, seductive companion who keeps his face hidden. A man who tempts her to disclose her own shocking secret, one that could divide them forever.