Waking Up With the Billionaire by Katie Lane is the third book in The Overnight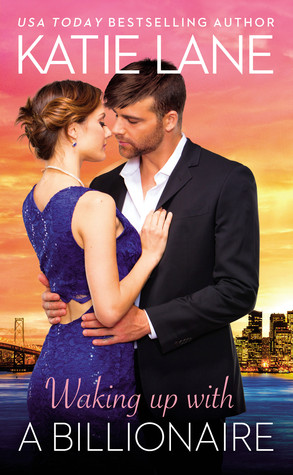 Billionaires Series and it's my favorite of the three. Even though this is the third book, it can be read as a standalone, as each brother has their own story. This one revolves around the younger Beaumont, Grayson.
When someone turns up at her apartment looking for her, Chloe realizes it's time to run again, but she needs money before she leaves. Not wanting to bother her friends, Chloe pays a visit to Grayson. Chloe and Grayson have the instant attraction thing going on, but Chloe has an abusive ex-boyfriend and because of this, she doesn't trust her own feelings. When Chloe realizes Grayson is going to be of no help to her, she tries to skip town. Grayson is making sure Chloe stays in town and accomplishes this by kidnapping her and locking her in his room. Don't worry, Chloe gets out when he leaves for work, but once out, the last thing she wants, is to escape.
The Woman Whisper, as Grayson is known as, is supposed to be the quiet, gentle brother. The one who treats women like glass and worships them with his paintings. Except, something has happened that has Grayson acting out of character. Turns out he's lost his painting mojo. It's so bad that he can't even paint an apple. He once offered Chloe money to paint her and now she's here to take him up on his offer, but when she finds out he can't paint, she tries to get to the reason why and offers up her body for his taking.
Chloe and Grayson sizzle through the pages.
"He kissed like he painted, his lips and tongue stroking a picture of heat and passion that had her entire body trembling."
Their chemistry is off the charts and you can tell they really have an honest interest in each other. Once Chloe faces her past and no longer needs to leave, a solid and passionate relationship develops between her and Grayson that will leave readers satisfied. I don't normally read books about billionaires, but these books are not your average billionaire reads and for that, I'm thankful. This series has been one of my favorites and will definitely be re-read!
Book Info:

Publication: July 26th, 2016 | Forever | The Overnight Billionaires #3
He can have anything he wants…except her
Famed artist Grayson Beaumont is the most elusive of the billionaire Beaumont brothers. He has a reputation for seducing any woman with only a look, word, or sensual stroke of his brush. But now Grayson has lost all his desire to paint . . . unless he can find a muse to unlock his creative-and erotic-imagination.
Chloe knew she might have to shed her clothes when she agreed to pose for the celebrated artist, but she wasn't expecting to shed all her inhibitions as well. Under his intense scrutiny, there's nothing she can hide…including a secret from her past that, once exposed, will change how he looks at her forever.