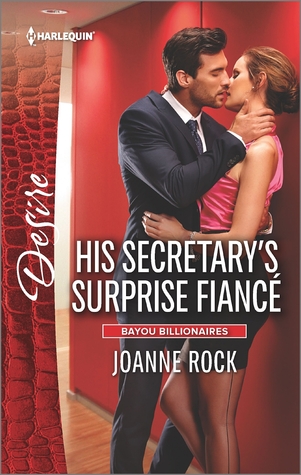 His Secretary's Surprise Fiancé by Joanne Rock: Best friends, employer and employee, what's more is a man who couldn't see what was right in front of his face. That is until he didn't have a choice anymore.
Adelaide, Addy, Thibodeaux hadn't grown up in the best part of town, but she had grown up with the best heart and a whole lot of love. She was determined to make her own way though and if that meant working for her best friend and the man that she had grown to love well she would do that with a smile on her face and be happy she had the time with him. Or at least she would until that wasn't enough.
Dempsey Reynaud had grown up in a rough neighborhood until he found out who his father was. Then at that point he was whisked away to a whole other life, but even still he never forgot his roots. He just started to work harder to find respect from his three half brothers and his grandfather. He would prove to they that he was worthy, one way or another.
When Addy finally made her mind up to leave Dempsey and to start her own business she was determined. Then Dempsey backed her into a corner, would it be a good corner to be stuck in or would they both realize that corners weren't meant to be forever?
In the second of the Reynaud brother's stories Ms. Rock gives us another wonderful telling of this family. The story can be read on it's own, but with these brothers you will want to catch all of them. The genre is well-known, best friends, employer/employee, not seeing what's right in front of you, but this story takes and elevates those genres in a way that only Ms. Rock can. With her words she transports and makes her readers feel a part, from the scenery you can visualize to hearing the words that are spoken. There is nothing like a Rock novel and this is no exception.
Book Info:

 Expected publication: March 8th 2016 | Harlequin Desire | Bayou Billionaires #2
Her boss wants her in his office—and as his bride!
Adelaide Thibodeaux grew up with Dempsey Reynaud, and she's worked for him for years. But when the billionaire football coach springs a surprise engagement to keep her from resigning, it's a low blow. Just as she's ready to strike out on her own, she's stuck in a fake relationship with her boss, biding her time…
But soon Adelaide faces a second blow: she's actually falling for the man! Can a relationship founded on a lie become the real deal? Or will they fumble before the end zone—and stay in the friend zone?